Weaker Euro and Strong Seasonal Demand Dictate British Beef Markets
EU – Tight cattle numbers have caused a 23 cent leap in cattle prices across Great Britain which overtakes France at the top of the heifer deadweight table.
The table tells a story of major gains for British farmers who witnessed the biggest movement in deadweight prices across the whole of Europe between mid-August and mid-September.
This is according to official EC Dressing Specification reports which also confirmed strong prices rises in Northern Ireland, Italy, Luxembourg and Austria, all up over 10 cents per kilo deadweight.
Analysts at the Livestock and Meat Commission Northern Ireland attribute a weaker euro relative to sterling for the lift in heifer prices.
This, the commission added, has combined with strong demand at a seasonal upturn for beef.
Analysts said: "An improvement in the deadweight trade has played a strong part in the increase in the R3 heifer price in GB with reports of a strong demand for cattle from plants in GB in response to the seasonal upturn in demand for beef."
France slipped to second in the rankings, dropping eight cents, Ireland fell below Luxembourg and sits above Spain.
Spanish heifers sold for 405.5 cents/kg while Irish heifers averaged 406.3cents/kg.
Major losers through late summer include Lithuania, which has the cheapest stock in Europe and stays rooted to the foot of the table after a 17.4 cents drop.
Farmers saw their prices slide from 259.8 cents/kg to 242.5 cents/kg putting Lithuanian heifers almost 50 cents adrift of the Czech Republic.
Prices also plummeted in Sweden and Slovenia. Swedish heifers dropped 15.4 cents to 390.1 while the Slovenian average was 13.6 cents lower at 312.6 cents/kg.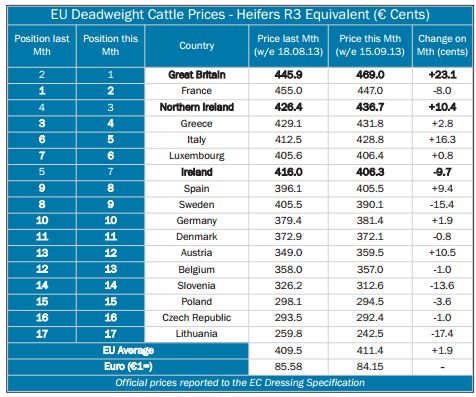 Source Courtesy of : Livestock and Meat Commission Northern Ireland