Marts Report Strong Prices Across Great Britain as New Bonus Regime Hits Plants
Northern Ireland, UK – Little change was seen in plant quotes last week as businesses adopted new in-spec bonuses and prime cattle supplies improved.
Better prices have been seen across Great Britain for steers, heifers and young bulls but Ireland currency woes have continued to pressure cattle availability, according to market analysts at the Livestock and Meat Commission (LMC).
A weaker euro pushed prices lower to 326.6p/kg for R3 steer price, a drop of 8.3p/kg and R3 heifers down 7.2p/kg to 336.7p/kg.
In Northern Ireland, U-3 grade cattle remained similar to last week and ranged from 364-366p/kg with one plant quoting 368/kg for good quality heifers.
Several plants amended bonus payments, adding 10p/kg for animals fulfilling basic bonus specifications and an additional 4p/kg for cattle raised on fewer than four farms.
The LMC revealed: "One plant is currently paying a 12p/kg bonus without any reference to the number of residencies. Some others have not yet declared any change to their bonus system although it is likely that in-spec cattle are being rewarded as required to secure supplies."
LMC analysts confirmed an increase in prime cattle last week. Numbers were up around 1000 than the week before but down around 1000 on the same week in 2012 when sales reached 9,872.
This coincided with the highest weekly Great Britain exports since April 2013 at 417.
Dead Weight Trade
Average steers prices were 4p/kg higher at 362.4//kg while a 7.2 p/kg increase was reported for R3 steers at 373.6p/kg.
Heifers were up by around 5p/kg, as were young bulls which averaged 342.6p/kg.
Increases were seen across Great Britain for steers, heifer and young bulls.
Liveweight Marts
Second quality steers were worth £2 a kilo last week and first quality 26 pence higher. Heifers sold to a top price of 230p/kg with first quality averaging 220p/kg.
Store trade was 'strong' with bullocks over 500kg selling for 219p/kg. Heifers above 450 kg peaked at 258p/kg with first quality averaging 223p/kg.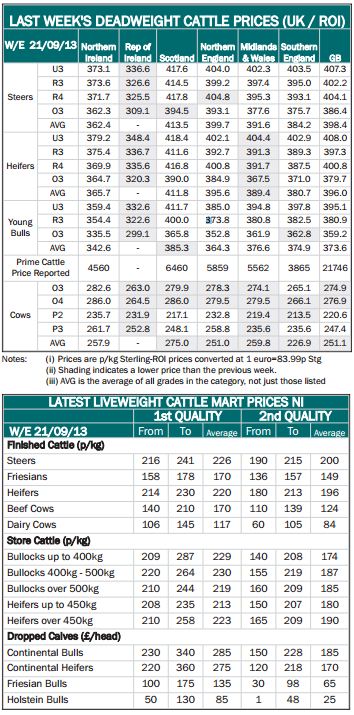 TheCattleSite News Desk