Zilmax Suspension Could Mean an 8 Pound Drop in Cattle Weights
US – Industry experts are forecasting finished steer weights to drop up to eight pounds following Merck's decision to suspend sales of Zilmax.
This is according to Steve Meyer and Len Steiner who, in their daily livestock report, said that production will take a hit this year adding that the $1.20/cwt increase in live cattle futures for the week was a 'reasonable response'.
So far, 2013 beef production is 0.92 per cent below last year and the Zilmax welfare complication points towards lower production, they added.
The introduction of Zilmax and fellow beta-agonist Optaflexx led to a 'sharp increase' in fed steer slaughter weights in early 2012.
The year on year average increase has been calculated at 19.08 pounds per heard (2.2 per cent higher) from February 1 2012.
In their daily report Mr Meyer and Steiner write: "Even when feed prices jumped to record highs last summer. Weights were higher again for the first five months of this year and have been roughly even with last year since June 1. We think one has to conclude that beta-agonists were a primary driver of this year-on-year production increase of about 2%.
Messrs Meyer and Steiner added that it is no surprise that packers identified the cattle lameness issue as they are able to observe animals sourced from multiple feedlots.
They concluded: "The situation also underscores the times we live in. "I'm using an approved product according to the label!" is no longer an acceptable response to concerns over animal well-being. We economists would term approval and proper usage as "necessary but not sufficient" conditions in today's culture.
"Just as we no longer have the authority to "do what I darn well please" with the animals that we own, we also must judge the impact of approved, safe products on animal and human well-being and take actions appropriate for the times —whether we like it or not."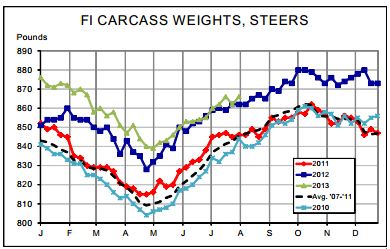 Graph Courtesy of Steve Meyer and Len Steiner
TheCattleSite News Desk