Beef Exports Up 55,000 Year On Year
IRELAND - Records up to mid-June show a 75 per cent recovery in shipments and much healthier headage exports at 128,000, Bord Bia has revealed.

This means a total export increase of 55,000 cattle over the equivalent period in 2012. Current levels are almost on-par with 2011 (-6 per cent), when 215,000 animals were exported in total by the end of that year, write analysts at Bord Bia.
Exports of calves have experienced the strongest increase. At 83,500 head, these have risen by more than 150 per cent from just 32,500 calves last year. Principal markets include the Netherlands, Spain, Belgium and France.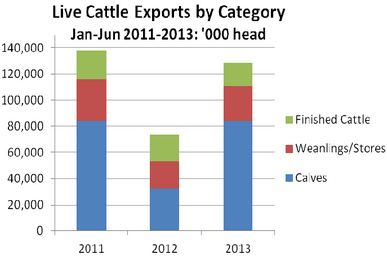 Exports of weanlings and stores are collectively up 33 per cent on last year's levels. This increase is primarily the result of shipments to non-EU markets including Libya, Tunisia and Morocco. It was initially hoped that Libya would become an important destination for Holstein-Friesian bulls from Ireland.
However it seems that customers there are more interested in beef-cross animals. Preferred weight range is between 320 and 420 kilograms and they need a reasonable covering of flesh.
Finally, exports of finished cattle have fallen by 15 per cent compared with 2012. This trade relates mainly to prime cattle travelling to Northern Ireland for slaughter but we have seen reduced activity since the beginning of this year.
This is partly because of the strong prices being paid by Irish meat plants which means cattle are less competitive for export. Another factor has been the greater preference among customers for beef which is either British or Irish.
Beef produced from animals exported live from Ireland to the UK (including Northern Ireland) needs to be labeled "Born in ROI. Reared in ROI/UK. Slaughtered in UK.", and this falls outside the specifications of most retailers. This is likely to continue, since customers are looking to shorten their supply chains in the wake of the equine DNA issue, rather than extending their purchasing range.
TheCattleSite News Desk