LMC: Top Deadweight Steers Average 412.4p/kg for Great Britain
UK - Last week, the 412.4p/kg average was helped by U3 values in Scotland reaching 420.2 with prices in the midlands and northern England a shade under at 409.8p and 412.1p respectively, according to market analysis by experts at the Livestock and Meat Commission for Northern Ireland.
Deadweight Cattle Trade
Quotes for U-3 grade prime cattle from the plants this week were 372-374p/kg while quotes for good quality cows ranged from 290-310p/kg, say Livestock and Meat Commission analysts.
The plants are quoting prices of 364-366p/kg for prime cattle next week with quotes for cows ranging from 290-305p/kg with the plants reporting a steady supply of cattle to meet demand.
It would appear however that cattle have been killed lighter and earlier this year leaving 3 per cent fewer cattle aged 18-30 months on the ground compared to the same time last year. Securing supply moving into the autumn may be a bigger challenge than normal.
Prime cattle throughput in the NI plants last week totalled 6,082 head, a decrease of 133 head on the previous week. This brings the total throughput for June 2013 to 24,607 head, an eleven per cent increase on June 2012 when 22,090 head were slaughtered. however a drop in the average prime cattle carcase weight from 341.5kg in June 2012 to 323kg in June 2013 has meant that the total amount of beef processed from the prime kill increased by only 5.4 per cent despite the eleven per cent increase in throughput.
Meanwhile the cow kill in NI last week was 1,727 head, bringing cow slaughterings for June 2013 to 5,992 head, an 8 per cent reduction on throughput in June 2012, say LMC markets experts.
The amount of cow beef processed during June 2013 was 8 per cent lower than was processed in June 2012 with average cow carcase weights relatively similar between the two periods.
Despite the4p/kg drop in quotes in NI last week average reported steer prices were back 2p/kg to 380.5p/kg while average heifer prices were back by a similar margin to 382.6p/kg. Meanwhile R3 steer and heifer prices were back in the region of 2p/kg while U3 prices were broadly similar to the prices paid the previous week.
This perhaps indicates that higher prices were available than the base quotes from the plants would suggest.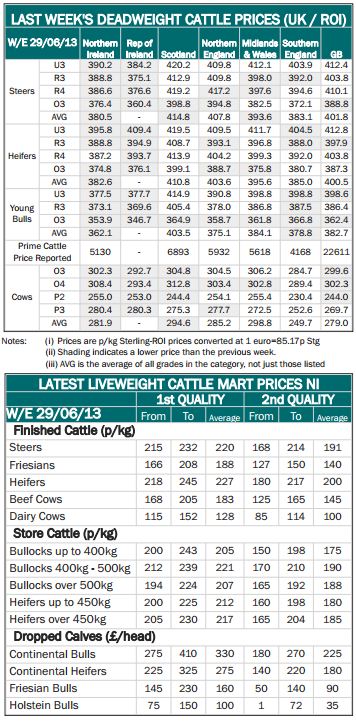 Liveweight Cattle Trade
Meanwhile in GB the market has remained fairly steady with average steer prices unchanged at 401.8p/kg and average heifer prices increasing by 2p/kg to 400.5p/kg. Average steer prices were within 1p/kg of reported prices the previous week in all the GB regions while average heifer prices were up by 1-3p/kg across the regions.
Average young bull prices in GB were up 2p/kg to 382.7p/kg with prices in Scotland, Northern england and the Midlands up in the region of 4-5p/kg. Average prices in Southern england were back 3p/kg to 378.8p/kg.
Prices in ROI came under pressure last week with reports of more grass fed cattle coming available for slaughter. The R3 steer price in ROI last week was the equivalent of 375.1p/kg, back 3.6p/kg on the previous week while the R3 heifer price was back 4.6p/kg to 394.9p/kg. The R3 heifer price in ROI was 6.1p/kg higher than the equivalent NI price last week while the R3 steer price in ROI was 13.7p/kg lower than the NI price.
TheCattleSite News Desk