Exploring Corn Alternatives For Bull Fattening
AUSTRIA – Bull fattening often requires intensive systems revolving around a corn silage diet but, in an exploration of alternative feeds, the Austrian Agriculture Chamber recommends grass silages, sorghum and alfalfa as other feeds to combine in a finishing ration.
On a typical Austrian bull finishing unit, animals are turned around relatively quickly. Slaughter age is around 16-19 months and to achieve fast growth, corn silage is the best option due to good yields from the fields and good weight results in the barn.
This suits the Austrian market as beef fed this diet produce a tender product which is juicy and flavoursome with an appropriate marbling class – fat class 3.
While no total substitution of corn silage is possible and profitable for intensive enterprises, augmentation is advisable through the use of alternatives, the Agriculture Chamber has advised.
Commonplace rations in Austria are made up of 17 kg corn silage, 0.5 kg of straw, 1.8 kg of grain and a 1.2 kg of a protein concentrate, such as rapeseed meal. Around 60-70 per cent of a bull's energy needs will be met by ensiled wheat.
Alternatives to corn silage
Other possibilities are sensible but not capable of completely replacing corn silage.
• Forage silage: Good yields and protein-rich energy food can be reduced (500 grams less). The energy-rich concentrate should be increased by about a kilo. Frequent harvesting and ensiling the forage field is required.
• Sorghum whole crop silage: High crop yields possible. The protein content is higher than that of corn silage. High energy power feed must be increased by one to one and a half pounds.
• Alfalfa silage: High crop yields possible. High protein content in the silage. Feed intake and daily gain are not adversely affected.
Adjusting Rations
Advised mixing is laid out in the table.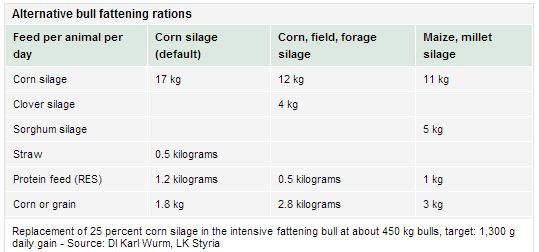 TheCattleSite News Desk