LMC: Quotes From 374-380p/kg For U-3 and 300p/kg For Good Cows
UK - Both slaughter and store animals have enjoyed good trade recently. Top quality bullocks at store sales averaged 211p/kg with fed cattle at an average GB price of 401.2p/kg. Kill was marginally shy of 7,000, write market analysts at the Livestock and Meat Commission Northern Ireland.
Deadweight Cattle Trade
Base quotes from the plants this week for U-3 grade prime cattle range from 374-380p/kg with the majority of plants quoting 378p/kg for steers and heifers. The 8p/kg bonus continues to be available for steers and heifers that kill out within spec.
Quotes for good cows this week ranged from 280-310p/kg with similar quotes expected for next week. The plants are reporting a tightening in the availability of prime cattle this week with numbers expected to be tight until the end of the summer.
The prime kill last week was 6,928 head with 1,852 cows also slaughtered. Imports for direct slaughter from ROI last week totalled 438 head, consisting of 402 prime cattle and 36 cows. Meanwhile exports from NI to ROI for direct slaughter consisted of 22 prime cattle and 205 cows.
A total of 276 cattle were also exported to GB for direct slaughter. Average steer prices in NI last week increased by 2.2p/kg to 377.9p/kg while average heifer prices increased by 1.6p/kg to 379.9p/kg. The R3 steer price in NI last week was 384.6p/kg, up 1.3p/kg on the previous week while the R3 heifer price was 387.2p/kg, up 1.8p/kg on the previous week.
Meanwhile R3 steer and heifer prices in GB were up in the region of a penny last week to 401.9p/kg and 399.8p/kg respectively.
The average steer price in GB last week was similar to the week before at 401.2p/kg with average steer prices across the regionswithin a penny of the previous week. Meanwhile average heifer prices in GB were up 1.4p/kg to 398.7p/kg.
Average heifer prices in Northern England and the Midlands increased in the region of a penny while prices in Southern England increased by 5.5p/kg to 382.7p/kg. The average heifer price in Scotland was back 1p/kg to 406.1p/kg.
A firm deadweight cattle trade in ROI last week combined with an improvement in the value of euro against sterling has resulted in an increase in the prices paid for all reported cattle grades in sterling terms. The R3 steer price in ROI last week was the equivalent of 374.7p/kg, up 6.7p/kg on the previous week. The R3 heifer price increased by 6.4p/kg to 396.3p/kg.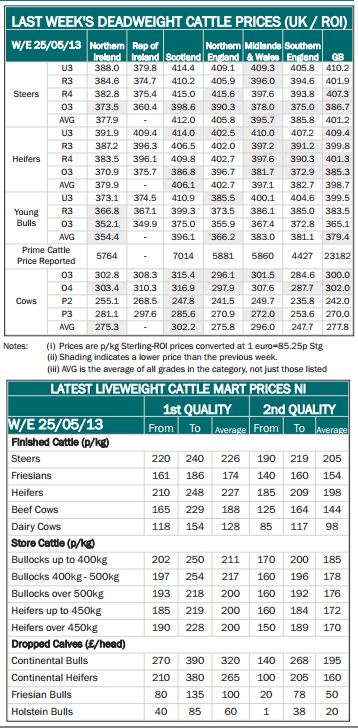 Last Week's Marts
Finished first quality steers sold to an average of 226p/kg live weight in the marts this week with second quality finished steers selling to an average of 205p/kg. Finished first quality heifers sold to an average of 227p/kg (218p/kg last week) with second quality selling to an average of 198p/kg (194p/kg lastweek).
Well fleshed cull cows continued to sell well with a top price of 229p/kg for a continental type cow. Friesian cows sold from 85-154p/kg depending on quality. Strong store cattle continue to be a good trade with first quality bullocks selling to an average of 211p/kg (200p/kg last week). Heifers over 450kg were the same trade as last week selling to an average of 200p/kg.
TheCattleSite News Desk