Pasture Conditions and Breeding Dynamics Highlight Challenges
US - Cattle producers are under pressure as pasture conditions still remain in poor condition, writes Gynn Tonsor, Associate Professor, Kansas State University.
Crop and livestock producers alike are understandably anxious for some resolution of weather uncertainty with particular current focus on corn planting. Last week, the USDA released information that is also heavily weather influenced and of elevated cattle producer interest.
Table 1 was derived to present a summary of regional range and pasture conditions. This table also shows how current conditions compare to the past two years as well as the relative predominance of beef cows and retained heifers regionally.

Source: USDA Data. Courtesy of LMIC and Glynn Tonsor
A key point to note is that nationally 53 per cent of beef cows reside in states with at least 40 per cent poor or very poor pasture and range conditions. Noting that last year only 20 per cent of cows were in this situation quickly highlights the scope of ongoing challenges many cow-calf operators are facing regarding forage and water supplies.
It is further informative to assess the situation across key geographic production areas. The Southeast is the only region with notably better pasture conditions. While this is important to note, there are several indications that as a whole the Southeast may not be expected to lead national herd expansion (February 4th ICM examined this).
Note also that the Great Plains region is an area experiencing the worst deterioration (compared to 2011) of pasture conditions yet is also home to an increasing share of retained heifers. While there is certainly notable variation within these broad regions, taken as a whole the net impact of this situation suggests prospects for net breeding herd expansion have further deteriorated and at least have been further delayed.
Given the implications for upcoming feeder cattle supplies, ongoing excess capacity concerns, and ultimately retail beef availability it is important to continue monitoring this situation.
The Markets
Cattle prices last week were flat to higher depending on the region and weight class examined. The 5-area live fed cattle price for the week was $126.24 while Nebraska yearlings traded at $135.79. Corn prices were up slightly for the week trading at $6.93 in Omaha.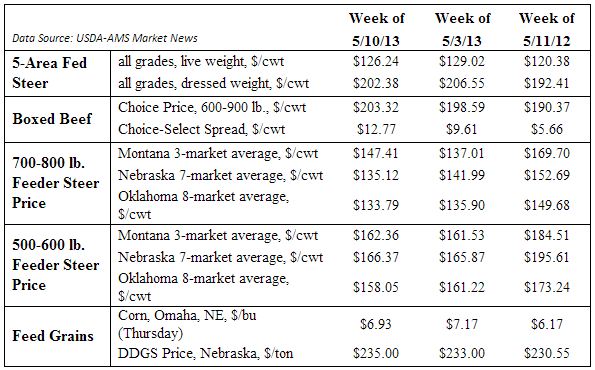 TheCattleSite News Desk