LMC: Better Prices Available For In spec Steers and Heifers
UK - Steers and Heifers in Northern Ireland were up 2p/kg last week which, with 8 p/kg bonuses, suggests farmers should be looking for prices higher than those quoted, say the Livestock and Meat Commission Northern Ireland.
Deadweight Cattle Trade
Quotes from the plants this week for U-3 grade prime cattle were 366-370p/kg with the 8p/kg bonus available for steers and heifers that kill out in spec. The majority of plants are quoting 290-310p/kg for good quality cows.
The plants are reporting increased availability of cattle this week with producers eager to offload cattle due to the current forage crisis. Similar quotes are expected for early next week.
Last week the prime cattle throughput in NI showed a strong increase for the second week in a row with 7,549 head slaughtered. This is an increase of 781 head on the previous week and accounts for a 12 per cent increase week on week. This is the highest prime cattle throughput since October 2012 and is almost 1,000 head higher than the corresponding week in 2012. The cow kill last week was up 65 head to 1,650 head.
The R3 steer price in NI was up 2p/kg last week to 377.9p/kg with the R3 heifer price up by a similar margin to 380p/kg. With a top base quote from the plants last week of 372p/kg for R3 grading steers, including the 8p/kg bonus, it is obvious that higher prices are available than base quotes would suggest.
A similar trend can be observed for heifers. Producers should keep this in mind when selling finished cattle and ensure they get the best possible deal. In GB average steer prices were up 2.6p/kg to 393.6p/kg with increases recorded in all regions except Southern England where the average steer
price was back 1.3p/kg to 377.3p/kg.
The strongest increase was in Scotland where average prices were up 4.7p/kg to 403.3p/kg. Average heifer prices in GB were up 3.1p/kg to 390.8p/kg. Heifer prices increased by 4-5p/kg across the regions with the exception of the Midlands where heifer prices were back 1.1p/kg to 386p/kg.
In ROI all reported prices showed an increase in sterling terms with strong demand reported in ROI plants despite the continued strong prices. R3 steer prices were up 3.4p/kg to 364.3p/kg while R3 heifer prices were up 4p/kg to 384.9p/kg. The total kill in ROI last week was 28,047 head, an increase of 1000 head on the previous week.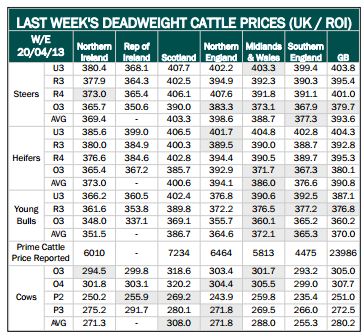 Last Week's Liveweight Marts
A steady trade for finished cattle across the marts saw finished first quality steers sell to an average of 217p/kg liveweight with second quality selling to an average of 193p/kg. Finished first quality heifers sold to a top price of 233p/kg with second quality selling to an average of 192p/kg.
Well fleshed beef cows sold to an average of 170p/kg with plainer lots selling to an average of 133p/kg. First quality bullocks over 500kg sold from 213-232p/kg (av 223p/kg) compared to 210-242 (av 220p/kg) last week.
Second quality bullocks in the same weight range sold to an average of 196p/kg compared to 185p/kg last week. First quality heifers over 450kg were a similar trade to last week selling to an average of 212p/kg.
TheCattleSite News Desk