LMC: Strong Demand Sees Higher Numbers and Active Buying
NORTHERN IRELAND - Greater numbers were sold on a bouyant market last week as a 21 per cent lift in throughput meant 6,768 head sold at prices up 2p/kg on the previous week.
Deadweight Cattle Trade
Quotes from the plants last week for U-3 grade prime cattle were 366-370p/kg with the 8p/kg bonus available for steer and heifers that kill out within spec. Quotes for cows lsat week ranged from 290-310p/kg with one plant quoting 275p/kg. Similar quotes are expected for early this week.
The plants reported an improved supply of cattle last week and this was reflected in the prime cattle throughput which totalled 6,768 head. This was a 21 per cent increase on the 5,590 slaughtered the previous week. In addition to this the cow kill was up by just under 500 head on the previous week to 1,585 head.
The number of prime cattle imported for direct slaughter from ROI last week totalled 480 head, up from 281 head the previous week. Imports from ROI for the year to date have totalled 5,660 head, 20 per cent behind the same period in 2012 when 7,097 head were imported.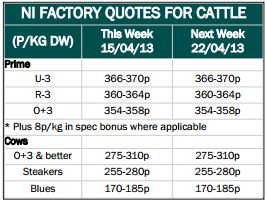 Average steer and heifer prices in NI last week were both up 2p/kg on the previous week to 367.3p/kg and 371.5p/kg respectively.
Meanwhile in GB average steer and heifer prices were almost unchanged from the previous week at 391p/kg for steers and 387.7p/kg for heifers.
R3 heifer prices recorded the biggest increase in prices in GB, up by 2p/kg to 391.5p/kg.
The R3 heifer price in Northern England was up 3.8p/kg to 392.3p/kg while it increased by 1-2p/kg in the other regions of GB.
The R3 steer price in GB was exactly the same as the previous week at 392.7p/kg with prices in Northern and Southern England back in the region of 2.5p/kg to 93.2p/kg and 386.9p/kg respectively.
Meanwhile in Scotland the R3 steer price increased by 1.6p/kg to 398.5p/kg and in the Midlands it increased by 2.6p/kg to 391.0p/kg. The R3 steer price in NI increased by 2.7p/kg to 376.0p/kg.
With reports of tightening finished cattle numbers in the midlands and west of Ireland the trade for finished cattle in ROI has remained fairly steady. The R3 steer price last week increased by the equivalent of 2.8p/kg to 360.9p/kg while the R3 heifer price increased by 1.7p/kg to 380.9p/kg.
A good trade for well fleshed cull cows in ROI has seen prices increase by 2-3p/kg for reported grades.
This Week's Liveweight
A fairly steady trade for finished cattle across the marts last week seen first quality finished steers sell to an average of 215p/kg with second quality finished steers selling to an average of 190p/kg.
Finished first quality heifers sold to an average of 218p/kg with second quality selling to an average of 194p/kg. A similar trade to previous weeks has also been reported for well fleshed cull cows.
First quality bullocks up to 400kg sold from 200-217p/kg (av 206p/kg) last week with second quality selling from 150-195p/kg (av 172p/kg). Heifers up to 450kg sold to an average of 214p/kg for first quality and to an average of 185p/kg for second quality.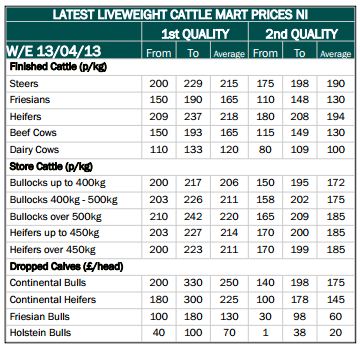 TheCattleSite News Desk