Improving Value of State's Cattle
MISSISSIPPI - When producer and consultant Dr. Gordon Hazard answers his phone, it is often in the middle of a pasture.
Mr Hazard has been raising cattle for more than 75 years, and his boots-to-the-ground approach is what helps him make a profit each and every year. He knows what Mississippi cattle producers are up against.
"The cattle business, particularly the grazing business, is one of the biggest industries in the state, and veterinarians focused on this practice are, frankly, short in the state," said Mr Hazard , also known as the "Grass Guru."
That is where Dr. David Smith comes in. He is the first Mikell and Mary Cheek Hall Davis Endowed Professor of Beef Cattle Health and Reproduction at Mississippi State University's College of Veterinary Medicine. Mr Smith , a board-certified veterinary epidemiologist, came to MSU from the University of Nebraska. His 30 years of experience in cattle production systems and disease control has prepared him to assist the owners of the 17,000 beef cattle farms in Mississippi.
"Dr. Mr Smith comes from an area where there is a lot of emphasis put on the cow-calf portion of the industry, and we need people who understand the business and the importance of raising calves," Mr Hazard said. "He has the expertise to help us in that area and also in the research arena."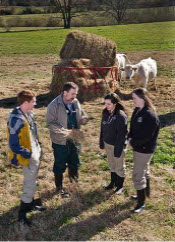 Dr. David Smith talks with Class of 2014 students, from left, Seth Jenkins, Lauren Comstock, and Lauren Bright. Smith says he believes his students learn to think on their feet while working with producers. (Photo by MSU College of Veterinary Medicine/Tom Thompson)
Mr Smith was attracted to the position at MSU's veterinary college because of the number of faculty interested in preventing animal diseases.
"There are talented people here who are interested in livestock health, preventive medicine, and also outreach and education," Mr Smith said. "Together, we can enhance the information given to cattle producers."
Mr Smith , who studies calf health and food safety, said part of his focus will be on the stocker cattle sector. His aim is to help producers improve their cattle's marketability as they move them into feedlots.
"There's a great niche for stocker cattle in Mississippi, and we need to provide evidence-based information on how to care for those cattle to increase their health, well-being, performance and, ultimately, value," Mr Smith said.
In addition to finding ways to add value to stocker cattle, Mr Smith wants to identify more efficient ways to capture important information on the state's cow-calf and stocker cattle operations.
"We want to use health and performance records to make good management decisions," he said. "But, there is also information that can move with the animals to add value. We need to learn what data are most worthwhile and then record them in a system that is easy to use."
Technology and partnerships are key in this endeavor. Mr Smith 's goal is to make the health recording process less cumbersome and more user-friendly.
"Not only can a widely used system help producers access health and performance information, it can also help veterinarians make better animal health recommendations to their clients—essentially, taking the herd's pulse," Mr Smith said.
Mr Smith is getting the job done by getting out and working in the field with producers as well as students. Getting veterinary students involved helps ensure the industry's current and future success.
"We want students prepared to serve rural clientele and to be a part of helping keep these small businesses alive and thriving," he said. "Understanding those in this industry gives them insight into more than just raising cattle and keeping the market healthy; it is about really understanding community. The veterinarians and producers I've worked with are entrenched in their communities beyond just running their businesses—they are often community leaders."
Mr Smith 's students benefit from both classroom and field experiences.
"It helps them tremendously to learn to think on their feet and also to take new approaches to problem-solving," Mr Smith said. "The industry is changing, and we need new critical thinkers to be a part of it."
Mr Smith 's dedication to learning, community and research is exactly what Dr. Mikell Davis had in mind when he and his wife, Mary Cheek Davis, endowed the professorship. Dr. Davis was a faculty member at MSU's College of Veterinary Medicine for nearly 30 years, and he is dedicated to educating the next generation of veterinarians and to ensuring the viability of the state's cattle industry.
"I'm excited about Dr. Smith being in the new role. He is a team player and has the expertise needed for the position," Davis said. "From producer to consumer, the future of the cattle industry is critically important. We want to do anything we can to help increase its health and viability."
Like the researchers at MSU's College of Veterinary Medicine, people in industry also are taking a team approach to finding success. Jimmy Bryan , owner of Prairie Livestock in West Point, is giving back to his community by helping educate veterinarians in cattle health.
Mr Bryan and his wife, Kay, have funded a scholarship and externship in food animal production medicine at MSU's College of Veterinary Medicine since 1993, and now they have funded a beef cattle residency.
"Educating students and residents at MSU's College of Veterinary Medicine is critical to the success of businesses like mine," Mr Bryan said. "I want this residency to enhance the current program, give eager residents an opportunity, and also serve local communities."
Mr Smith does not take his position as endowed professor lightly. He sees it as his opportunity to build teams, answer important research questions, and give back.
"This is more than a job for me; it is a chance to be part of a team with an important mission," Mr Smith said. "The Davises established something important here, and I feel it is my obligation to do the title justice by serving the veterinarians and cattle producers that are vital to our rural economy."
TheCattleSite News Desk