LMC: Week's Slaughter Down 7.5 Per Year-on-Year
NORTHERN IRELAND - Last week's quotes from the plants included a 8p/kg bonus around 360-366p/kg for U-3 grade prime cattle, write Livestock and Meat Commission analysts.
Top quotes for cows continue to range from 275-300p/kg. Similar quotes are expected for early next week with the plants reporting a steady supply of both prime cattle and cows to meet demand, write market analysts at the Livestock and Meat Commission Northern Ireland.
The prime cattle kill last week was similar to the previous week with 5,845 head slaughtered. In the same week last year 6,321 cattle were slaughtered, representing a decline of 7.5 per cent year on year. The prime kill for the year to date however is slightly ahead of the same period last year with an additional 650 head slaughtered.
The cow kill last week was similar to the previous week with 1,363 head slaughtered bringing the total for the year to date to 19,118. This is nine per cent ahead of the same period last year when 17,409 cows were slaughtered.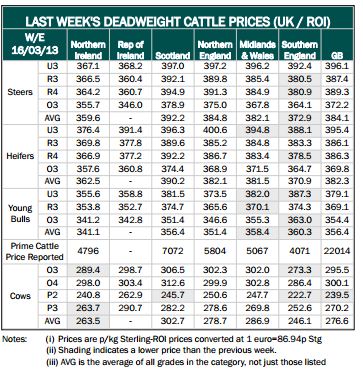 The R3 steer and heifer prices in NI last week increased in the region of 2p/kg to 366.5p/kg and 369.8p/kg respectively. The majority of plants were quoting 354-356p/kg for R3 steers and heifers last week and with the 8p/kg bonus for in spec cattle taken into consideration in spec quotes were 362-364p/kg.
With average prices above this it is obvious that plants were paying much more for cattle than quotes would suggest.
Producers should ensure they get the best deal by shopping around.
Average R3 steer prices in GB last week increased by 4.4p/kg to 387.4p/kg while R3 heifer prices increased by 5.4p/kg to 386.1p/kg.

The differential between NI and the GB average R3 steer prices was 0.9p/kg while it was 16.3p/kg for heifers. In monetary terms this equates to a differential of £80 for a 380kg R3 steer carcase and £62
for a 380kg R3 heifer carcase.
Strong increases in steer and heifer prices were recorded in Scotland, the Midlands and Northern England last week with average prices up 4-8p/kg. In Southern England the average steer price was down slightly to 372.9p/kg while the average heifer price increased by 2.4p/kg to 370.9p/kg.
Deadweight prices also improved in ROI last week with increases in the prices paid for all reported grades. R3 steer and heifer prices increased in the region of 6p/kg to 360.4p/kg and 377.8p/kg respectively. The R3 heifer price in ROI was 8p/kg ahead of the NI price last week while the
R3 steer price was 6p/kg behind the NI price.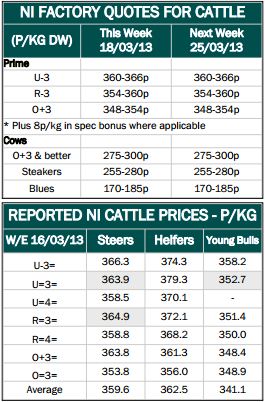 TheCattleSite News Desk