Diets that Equal Lower Greenhouse Gas Emissions
CANADA - Research conducted by the University of Manitoba has shown cows fed a grain based diet will produce less greenhouse gas than cows feed a forage or grass based diet, writes Bruce Cochrane.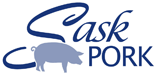 Farm-Scape is sponsored by
Manitoba Pork Council and Sask Pork
FarmScape is a
Wonderworks Canada
production and is distributed courtesy of Manitoba Pork Council
and Sask Pork.
To test the common belief that grass contributes less to global warming because grass is a less energy-intensive crop scientists tracked and measured the volume of carbon dioxide, methane and oxygen emitted in the breath of dairy cows fed different diets.

One diet consisted mainly of forage and was high in fibre, another was based on corn and was high in energy and another contained added fat.

Canada Research Chair Modeling and Sustainable Agricultural Systems with the University of Manitoba Dr. Ermias Kebreab says grass-fed cattle emit more methane and CO2 and they produce less milk and red meat than grain-fed cattle.
Dr. Ermias Kebreab-University of Manitoba
The high fibrous diet, which is the grass diet, will produce higher methane mainly because it's hard to digest so it needs to stay in the cow for longer and the bugs in the cow need more time to digest it meaning that there will be a higher amount of methane produced from those cows.

The high energy diet is easily available to the cow therefore there's not as much methane being released from the cow when consuming these kinds of diets.

Supplementing fats into the diet also had a beneficial effect.

It suppresses the bugs in the stomach of the animals.

Therefore we saw a reduced amount of methane being released from the cows.

Information gathered through the study will be used to help Canada meet its greenhouse gas reduction commitments.

Dr. Kebreab notes as a greenhouse gas methane is 21 times more polluting than carbon dioxide so any reduction in methane output will be beneficial.
TheCattleSite News Desk