Korean Crackdown on False Labelling
SOUTH KOREA - The South Korean government recently announced a crackdown on illegal beef labels which often claim a false country of origin. As part of the initiative they have also decided to provide cash support to enhance production of local high-quality meat.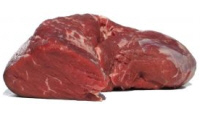 Photo: StockXchange
In the move announced after Seoul agreed to re-open its market fully to U.S. beef last week, the government said it will increase the number of enforcement monitors from 400 to 1,000 and conduct detailed monitoring of all meat stores and restaurants with floor space of 300 square meters, reports Yonhap news. According to the news agency it added that eateries with floor space of over 100 square meters are to be checked starting in June.

Seoul said Friday that it agreed to new import sanitation rules that give unfettered access to most cuts of U.S. beef, including bone-in beef and byproducts, from around mid-May. This sparked concerns over public health and criticism from farmers who cannot compete effectively with cheap meat from the United States.

"At present, regional governments and the Korea Food and Drug Administration only check for food safety and not country of origin, but this will change under the new rules," said Vice Agriculture Minister Park Deok-bae. He said the National Agricultural Products Quality Management Service will be exclusively tasked with checking labeling violations and taking administrative actions.

"If a restaurant intentionally hides the place of origin, owners could face fines of up to 30 million won, jail time of less than three years and suspension of business for up to a month," he said. For retailers, the fine will be raised to under 100 million won, while offenses could result in a maximum prison term of seven years.

It also said that the state plans to give cash incentives of 100,000-200,000 won (US$100-$201) to farmers for the production of superior hanwoo meat mainly through castration of male cows.
View the Yonhap news story by clicking here.
TheCattleSite News Desk