Selko presents "Global Mycotoxin Review" on 31 January
Mark your calendar and sign up to watch live session exploring the global mycotoxin threat
As conditions in today's global markets have a big influence on the quality of grain and the duration of storage, mycotoxins are a major threat to animal health and performance. Selko, the feed additive brand of Nutreco, is sharing a review from its 2022 sample data analysis on Tuesday, 31 January. The review will offer perspective on:

What were the primary changes regarding mycotoxin threats in 2022?
What mycotoxins are becoming more problematic to manage?
What aspects of mycotoxin mitigation have improved?
How should mitigation strategies be adapted in various production regions?
What are key takeaways from the analysis that producers should consider?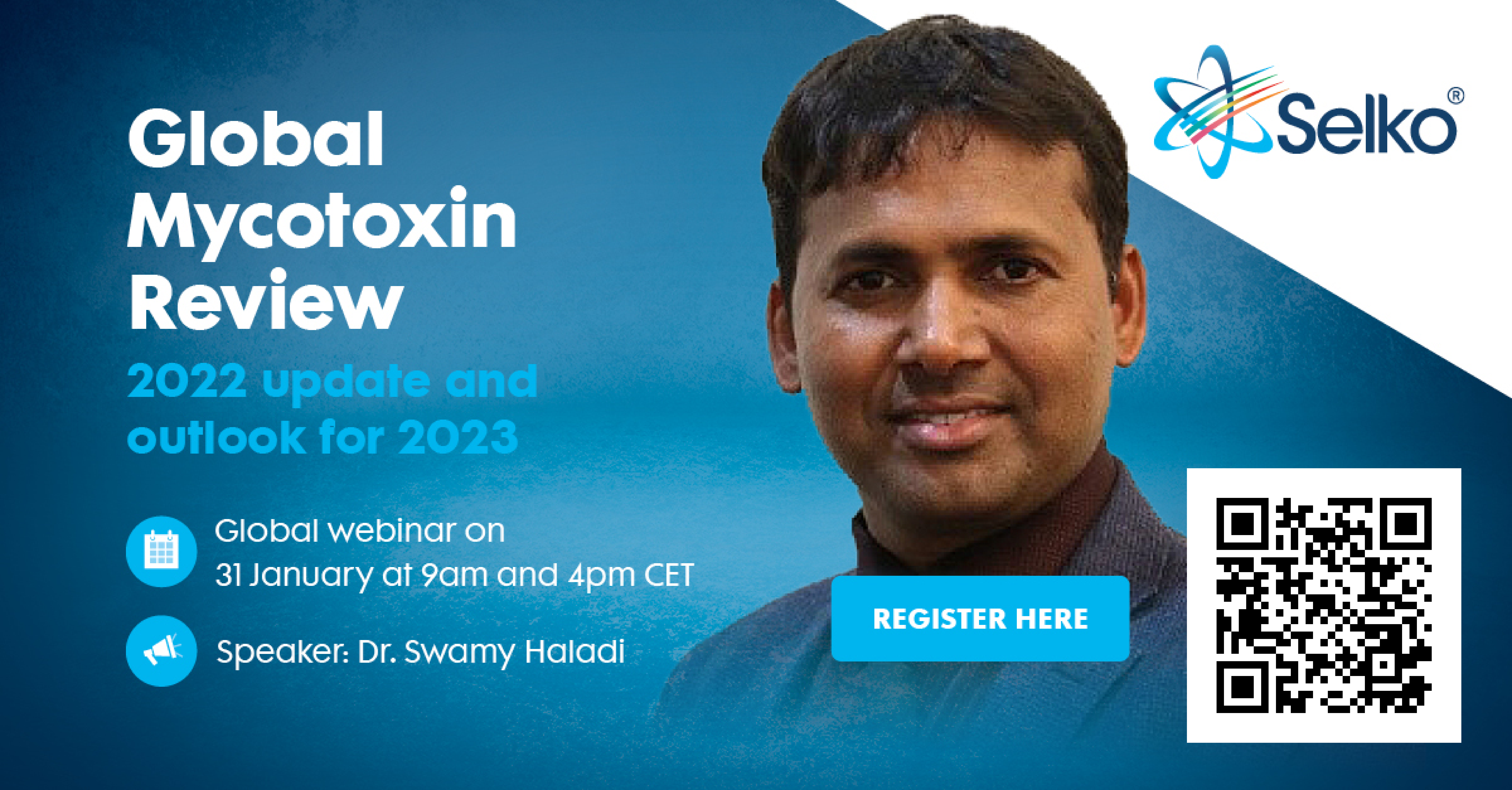 Drawing on mycotoxin analysis of more than 50,000 raw material and complete feed samples, the free webinar will share insights based on conditions and trends in various production regions around the globe, while providing practical strategies for addressing risk in these regions. Selko's commercial and technical manager for the mycotoxin risk management programme, Dr. Swamy Haladi, will interpret the data and offer guidance for applying mitigation strategies in today's changing grain and feed industry.
"Sustained industry impacts like climate change and ongoing global supply chain disruptions are no longer novel threats, but their impact on mycotoxin prevalence cannot be underestimated. Strategies for mitigating these risks continue to evolve in interesting ways and now more than ever we need to look for effective ways to minimise the impact of mycotoxins and maintain animal protein production" said Dr. Haladi.
Selko is hosting two live sessions, at 9am and 4pm CET to cover different time zones. Both sessions will have extensive information on the global data and trends, as well as a seasonal comparison in mycotoxin concentrations in raw materials and feeds. Subsequently, each session will deep-dive into specific regions for a more local approach. The first session will include information for Asia and Africa, and the second session will focus more on Europe and the Americas.
More information and registration are available here.