New Zealand Beef Mid Season Update 2006-07
By Meat & Wool New Zealand Economic Service - Beef cattle at 1 July 2006 were 4.43 million and are stable on last year (0.0%) but down 4.3 per cent from the recent peak of 4.63 million at 1 July 2003. Dairy cattle totalled 5.22 million at 1 July 2006, up 3.0 per cent on the previous year. The main factor behind the increase was the retention of dairy cattle as new dairy farms consolidate numbers and the start-up of 85 new dairy farms in 2006.
Export Volumes and Prices – Beef and Veal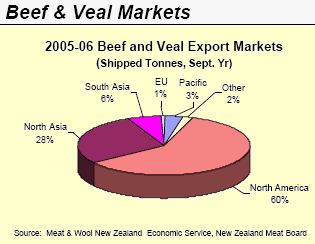 The pie chart for beef shows that 60 per cent of New Zealand beef exports were shipped to North America for the year ended September 2006. The NZ FOB price per tonne for North America was up 5.2 per cent on the previous season.
Total shipments to North America were however down 2.9 per cent on the previous year at 221,500 tonnes. Within North America the US accounted for 52 per cent of beef exports and Canada 7 per cent and Mexico 1 per cent. While the US took 52 per cent of shipments it accounted for 47 per cent of beef export receipts as the US demand is dominated by shipments of processing beef.
Shipments of beef to North Asia were mainly to Japan (10%), Korea (11%) and Taiwan (6%). These countries combined accounted for 32 per cent of beef export receipts reflecting a high value component of the product shipped. The NZ FOB price per tonne for North Asia was up 8.2 per cent on the previous season. However, total shipments to North Asia at 105,000 tonnes were down 9.1 per cent on the previous year and more than offset the price increase.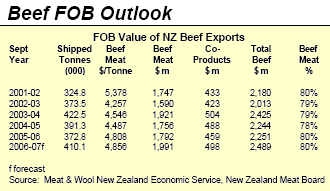 Beef and beef product exports for 2006-07 are estimated to total $2.49 billion, up 10.6 per cent on the previous year. Nearly all of this increase can be attributed to increased export volumes from increased production as the FOB beef price per tonne is forecast to increase 1.0 per cent on the previous year.
This level of beef export receipts at $2.49 billion will be a record and eclipses the previous record of $2.45 billion set in 2003-04.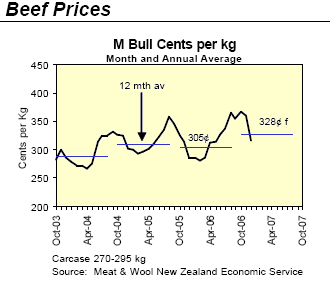 The NZ beef price for 2006-07 reflects the expectation of a strong US lean manufacturing price and the North Asia markets remaining strong. The US beef market accounts for around 52 per cent of beef exports and has a major influence on NZ farm gate prices. This underpins the 7.5 per cent increase in the M Bull farm gate price to 328 cents per kilogram forecast for 2006-07.
Strong world demand is also forecast to lift season average Prime Steer/Heifer grade (270-295 kg) prices by 7.5 per cent to 346 cents per kilogram and M Cow (170-195 kg) 7.5 per cent to 263 cents per kilogram. If the assumed exchange rates for the US weaken by 10 per cent then it is expected the beef price will rise a further 15 per cent assuming other things remain the same e.g. market prices and processing charges.
The beef price outlook for 2006-07 is for high offshore prices being negatively offset by an unfavourable exchange rate.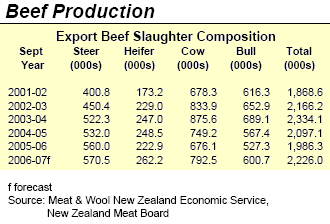 The export cattle slaughter forecast for 2006-07 increases 12.1 per cent to 2.23 million from last season's low. This increase reflects an expected higher kill of cull dairy cows that were retained to maintain and build the herd size and an increase in the bull slaughter from last season's low. The increased bull slaughter reflects the dairy beef calf retention back in 2004-05 that are now mature for slaughter.
The export beef slaughter for 2005-06 was down 5.3 per cent on the previous year to 1.99 million and was 14.9 per cent below the peak of 2003-04. This decrease came from a cow slaughter decrease (-9.8%), a heifer slaughter decrease (- 10.3%) and a bull beef slaughter decrease (-7.1%) that more than offset the 5.2 per cent increase in steer slaughter numbers. The two main factors that contributed to the fall in heifer and cow slaughter were the conversion of 85 sheep and beef farms to dairy in 2006 and the export of live dairy heifers since 2003-04 slowing the cull dairy cow rate due to the lack of replacements.
The 2006-07 average cattle weight forecast shows these to decline 1.5 per cent from last season's high weights largely because there are increased numbers of slaughter cattle to finish and increased cow slaughter.
The export cattle average slaughter weight for 2005-06 at 271.4 kilograms is the heaviest overall weight on record. The overall record weight was in part boosted by the lower percentage of lighter weight cull cows in the 2005-06 slaughter. Steer, heifer, cow and bull weights for 2005-06, were up 1.9 per cent, 2.4 per cent, 0.4 per cent and 0.8 per cent respectively.
Beef, EU and North Asia & US Ethanol Market Comment
Cow slaughter in the US is forecast to decline in 2007 as beef farmers rebuild their herds. US drought conditions over the last few years have led to a plateau in the current phase of herd rebuilding. This plateau has supported record lean manufacturing beef prices in the US over the past few years. The demand from the US for NZ manufacturing beef is expected to be strong in 2006-07 because of reduced domestic supplies but also lower available imports of manufacturing beef from Uruguay, meaning high prices are likely to continue.
EU CAP reforms have lowered EU beef production and this has reduced all EU beef exports. At the same time Russia has increased its overall beef imports sourced largely from Brazil, Paraguay and Uruguay which have also made up for reduced beef imports from the EU.
In the key markets of Japan, Korea and Taiwan beef imports from the US have been low post BSE. The main reason seems to be the US beef industry's inability to supply product that meets the strict import protocols. In Korea US processors remain unwilling to export major volumes of beef in case import protocols are violated. These dynamics are likely to underpin good prices in 2006-07.
The long-term fundamentals of the beef industry look very positive for NZ pasture feed beef. Recent reports from the USDA stated that in 2000 about 1.6 billion gallons of ethanol were produced in the United States. Corn for ethanol utilised about 6 percent of the 2000 corn harvest. In 2006, an estimated 5 billion gallons of ethanol were produced, and ethanol use accounted for 20 percent of the 2006 corn harvest. Renewable Fuels Association data indicate there are now 110 ethanol plants with total capacity of 5.4 billion gallons and another 73 ethanol plants under construction and another 8 facilities expanding.
When construction and expansion are completed, ethanol capacity in the United States will be 11.4 billion gallons per year, which is likely to occur during 2008-09. To provide an indication of how rapidly this expansion is occurring, in August 2006, the capacity of known plants and those under construction and expansion was 7.4 billion gallons, some 4 billion less than current estimates.
If this expansion continues it is likely that US beef supply will decline and meat protein prices will increase as input costs rise. A recent example of corn prices affecting food prices was in Mexico where the price for tortillas rose 25 per cent in a week. Increases in tortilla prices hurt millions of Mexican households because it is served with every meal. The rapid increase in prices meant the government had to act and it introduced tariff free quotas to decrease prices.
Further information
To read the full report please click here (PDF format)
March 2007
© Meat & Wool New Zealand Economic Service