Applying Manure to Alfalfa
By K.A. Kelling and M.A. Schmitt, publishee by The College of Agricultural and Life Sciences, University of Wisconsin-Madison.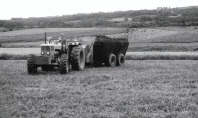 It's becoming increasingly common for livestock producers to apply manure to alfalfa. This shift comes partly as a response to increased regulatory pressure designed to promote nutrient management planning. In the face of concern about pollution of groundwater and surface water due to runoff from row crops, farmers are searching for alternative crops on which to spread manure.
In addition, many livestock producers simply don't have enough corn acres to accommodate all of their manure when spreading at proper agronomic rates.
Applying manure to alfalfa has several potential environmental, agronomic and management advantages. It allows more scheduling flexibility: a producer who applies manure to alfalfa has substantial cropland available for spreading throughout the summer months. It's good for the crop: alfalfa requires relatively high rates of nutrients and can benefit from the secondary and micronutrients as well as the nitrogen, phosphorus and potassium (NPK) contained in manure.
Finally, alfalfa does an excellent job of recycling nitrogen (N) from the soil. Given the choice, alfalfa
will take most of the nitrogen it needs from the soil (60–75 lb. N/ton of dry matter), rather than
symbiotically fixing nitrogen from the atmosphere. Furthermore, alfalfa's deep root system can extract mobile nutrients (nitrogen, sulfur, and boron) at greater depths than corn.
To take advantage of these potential benefits of manure for alfalfa, producers need to think carefully about application timing. There are basically three strategies for successfully applying manure to alfalfa: 1) apply it immediately prior to alfalfa seeding; 2) topdress it on established alfalfa; and 3) apply it after the last alfalfa harvest and prior to preparing the land for a grain crop. Each of these choices offers some unique potential benefits and associated risks.
To continue reading this feature click here.
December 2003