US Annual Livestock World Markets and Trade Report
2007: Trade of Red Meats and Poultry Forecast Stronger Among Major Traders as Disease-related Trade Restrictions Decline

Red meat and poultry trade by selected countries will remain strong in 2007. Exports by major traders of beef, pork and broiler meat will increase by 6.5 percent, 2.6 percent, and 4.1 percent respectively. Trade is expected to continue to recover from animal disease outbreaks (bovine spongiform encephalopathy (BSE), foot and mouth disease (FMD), and avian influenza (AI)) and their resulting trade impacts.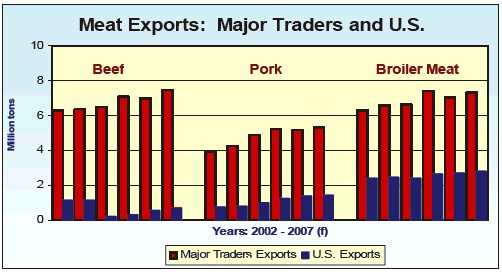 Source: Production, Supply and Distribution Database, FAS
Beef
: U.S. recovery of several key beef markets due to the lifting of BSE restrictions will bolster total beef exports by major traders. In addition to recovering more of its share of the beef trade, U.S. beef exports are forecast to reach 680,000 tons in 2007. In 2003, the United States accounted for 18 percent of beef exports by major traders. After declining to 3 percent in 2004, the United States is forecast to account for 9 percent in 2007.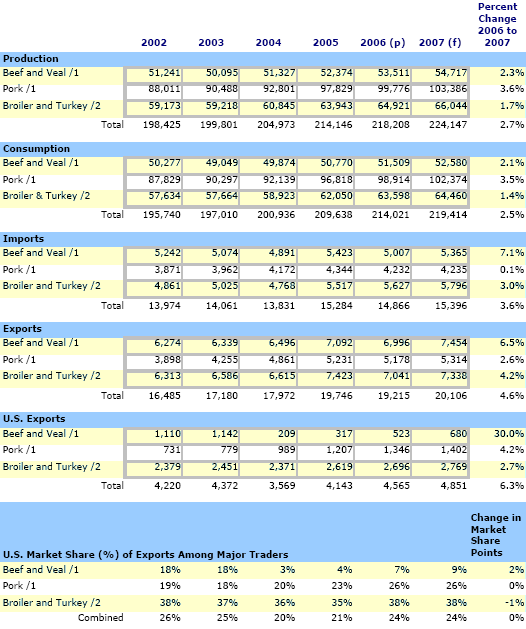 Source: USDA-FAS attache reports, official statistics, and results of office research.
(p) preliminary; (f) forecast 1/ 1,000 Metric Tons (Carcass Weight Equivalent)
2/ 1,000 Metric Tons (Ready to Cook Equivalent)
Note to Readers: Totals include only those countries that make up USDA's official PSD database are reported. This means totals do not encompass all production, consumption, and trade, but rather the sum of those countries reported in USDA's database, which represent the most important players in the world meat PSD situation. In an attempt to capture these major players, the list of countries reported changes periodically.
Beef: 2007 Forecast Overview
Exports to rise despite continuing disease related trade restrictions
World supply of beef continues to be tight due to the negative impacts of bovine spongiform encephalopathy (BSE) and foot and mouth disease (FMD)-related trade restrictions. Total beef exports by major traders are forecast to increase over 6 percent in 2007 not only due to countries not significantly impacted by disease (Argentina, Australia, India, and New Zealand) but also as some countries recover from disease related trade restrictions (Brazil, United States). Canadian and U.S. beef exports have not achieved full recovery of lost markets due to BSE. Canadian and U.S. beef exports in 2007 are forecast down 28 percent and 39 percent respectively from 2002. However, U.S. beef exports are continuing to recover and are forecast to rise 30 percent in 2007 to 680,000 tons.
2007: Production and consumption growth
Beef production and consumption in selected countries is forecast to increase in 2007 by just over 2 percent. China, Brazil and the United States are forecast to make the largest gains in production. Chinese beef production has grown 5 to 7 percent annually since 2002 and will increase over 5 percent in 2007 due to an increasing herd. Continued production growth in China is supported by strong domestic demand as disposable income increases and consumers shift from poultry to other meats due to avian influenza (AI) concerns. Similarly, beef production growth in Brazil, forecast at 3 percent in 2007, is driven by strong domestic demand but also full and partial lifting of trade bans. Though still combating FMD outbreaks, the Brazilian cattle herd continues to expand, forecast to rise almost 4 percent in 2007 bolstered by investments in genetics and government supported improved production practices.
Brazil's exports expand as FMD restrictions decline
Brazilian beef exports are forecast to increase 2 percent in 2007 as several markets have fully or partially lifted bans that were imposed because of FMD. Brazil lost significant exports in Russia, its major market, as well as to Chile and the EU during the first half of 2006. However, Brazil's total beef exports in the first half of 2006 were stable as it compensated for the loss of major markets by expanding sales to Egypt, Saudi Arabia, Israel, Romania and several other smaller markets as well as cooked product to the United States. Brazil's focus on smaller non-traditional markets will likely continue in the second half of 2006 and through 2007.
Japan: Winners and losers
Japanese beef imports are forecast to increase more than 10 percent in 2007 after an expected 1 percent decrease in 2006. High Japanese beef prices have negatively impacted consumption in 2006. The return of U.S. beef to Japan should help alleviate pressure on prices, in turn spurring increased demand. Initial exports of U.S. beef to Japan have been slow for a range of reasons such as high U.S. beef prices, consumer anxiety, and strict scrutiny at ports. Further, U.S. beef exports have been and will continue to be constrained by the availability of under 21 month old cattle eligible for export to Japan. The food service sector, particularly beef bowls and barbeque establishments, found the transition to Australian grass-fed beef unsuitable or had difficulty securing supplies of Australian grain-fed beef. Thus, restaurants will be leaders in the United States' return to the Japanese beef market. With the return of the United States to the Japanese beef market, it is expected that Australian beef exports to Japan will decrease while U.S. beef imports to Japan begin to recover market share.
TheBeefSite.com News Desk