Animal Scientist Investigates Effects of Grazing Toxic Fescue during Gestation
Research investigates effects of additive to counter fescue toxicity during gestation
A researcher at the Arkansas Agricultural Experiment Station is investigating a feed additive that might mitigate endophyte toxicosis in pregnant cows grazing infected fescue pastures.
Brittni Littlejohn is an assistant professor of animal science for the experiment station, the research arm of the University of Arkansas System Division of Agriculture. Her research focuses on beef cattle physiology, especially reproduction.
Many pastures in Arkansas and around the country are planted in Kentucky 31 tall fescue, which is infected with a toxic endophyte fungus. The toxin produced by the endophyte causes constriction of blood vessels, resulting in sometimes serious health problems for beef cattle, Littlejohn said.
"It can weaken the immune system, exacerbate heat stress and, in severe cases, cause sloughing of tails and hooves," Littlejohn said.
Effects on gestation
Endophyte concentration is highest in the seeds, Littlejohn said, and toxicity is highest twice a year when the fescue is at peak growth. "What happens to the fetus when these peak toxicity levels overlap gestation?" Littlejohn asked.
Littlejohn said a cow's experiences during gestation result in epigenetic changes to the fetus that program lifelong characteristics. Epigenetics refers to the way external events influence the regulation of what genes are active or silent in specific tissues.
"Such environmental conditions experienced by pregnant cows during gestation influence how the calf adapts to its post-natal surroundings," she said.
Littlejohn wants to know how epigenetic changes during gestation affect a calf throughout its life, particularly in terms of health, wellbeing and meat production. She also is investigating whether a melatonin feed additive can mitigate the effects of endophyte toxicosis in the cow and whether that has a long-term impact on the calf.
"Melatonin has been shown to alter blood flow," Littlejohn said. "We want to know if it influences uterine artery blood flow and whether that counters the ill effects of consuming toxic endophyte."
Littlejohn is using heifers, young females that haven't yet borne calves, in her research. They are divided into four groups, each with a different feed mixture.
Two groups are eating endophyte-infected fescue — one with a melatonin additive, and one without. The other two groups are eating endophyte-free fescue, including one using the melatonin additive.
Natural melatonin levels rise and fall with circadian rhythms, Littlejohn said, usually rising at night. For her research, she is feeding some of the heifers a melatonin feed additive in the morning to maintain nighttime levels throughout the day.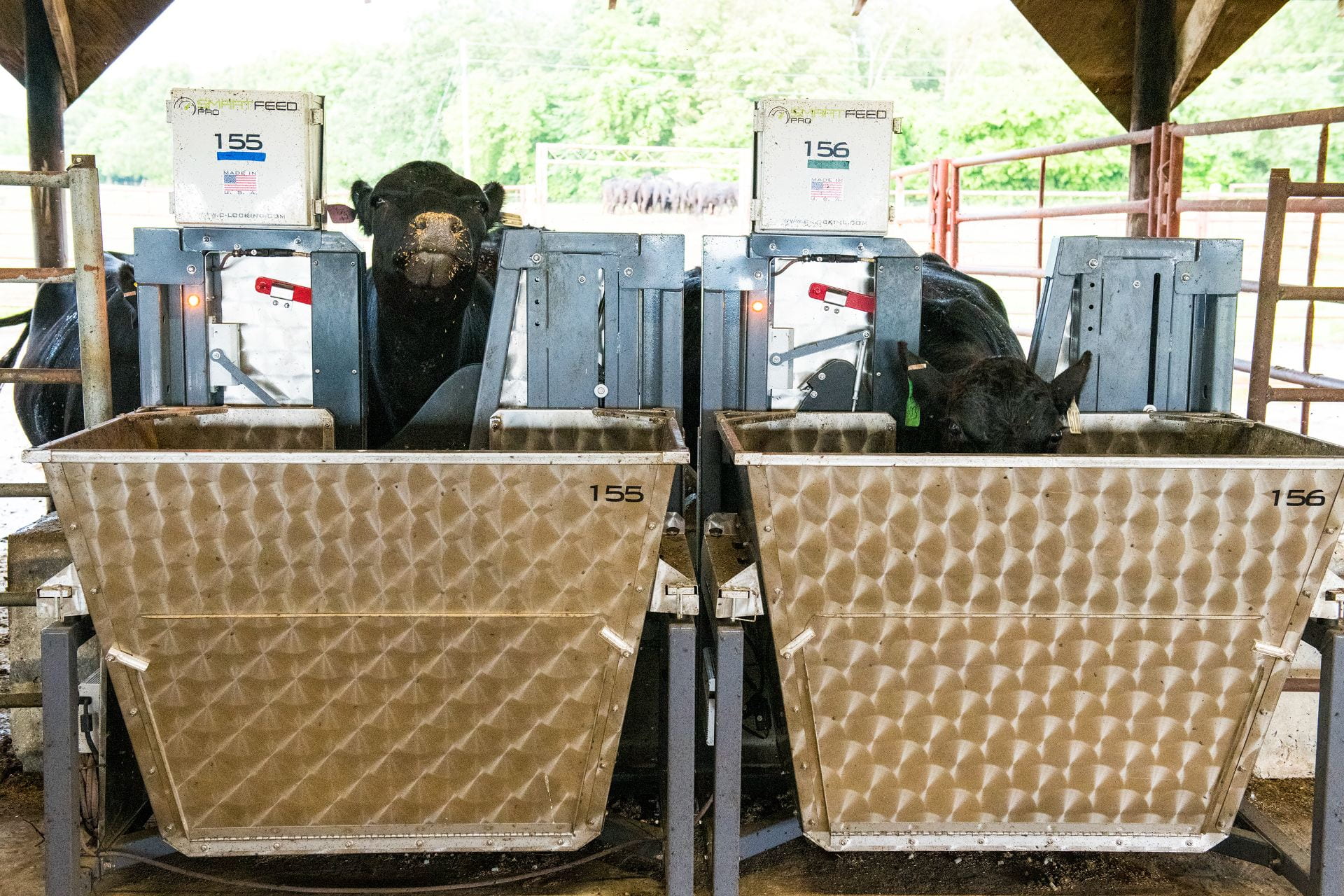 New tool
To accomplish her study, Littlejohn is using SmartFeed Pro automatic feeders that use radio frequency identification to control feed mixtures and intake for 56 cows. Four of the feeders were provided by the South Dakota manufacturer, C-Lock. The company contributed about $65,000 worth of equipment and costs for installation and maintenance of the feeders, Littlejohn said. The department of animal science also purchased four additional SmartFeed Pro feeders to meet the needs of Littlejohn's research.
The units are also providing research support for Agricultural Experiment Station professors Beth Kegley and Jeremy Powell. Kegley is studying the effect of mineral nutrition on beef cattle immune systems and productivity. Powell is investigating how management decisions for parasite control affect cattle production.
The heifers are all fitted with RFID ear tags, each of which is programmed into a computer to identify individual animals. The SmartFeed Pro units read the RFID tags to identify which cows are permitted to eat from each of the feed mixtures. An automatic gate in each unit will open only when it identifies a cow permitted to eat from it.
The feeders are also programmed to restrict a cow's time in the feeder to 30 seconds, Littlejohn said. "That prevents one cow from eating all the food so that other cows can get in there."
A gate rises to lift the heifer's head away from the feed when her time's up. Each heifer can return to the feeder later, but only after other cows have had a chance to eat. The gate will cut off access to any animal that has had its full allocation of feed.
"The cows figure out pretty quickly which feeder they can eat from," Littlejohn said. "And the restricted time at the trough works well to give them all a chance to get in there."
The computer also keeps track of how many times each heifer gets to the trough.
"It tracks each animal's feeding behavior," Littlejohn said. "And if it shows one of them is not eating from the feeder, we can go and find out if it's a health problem or something else keeping her from eating."
Between meals in the automatic feeders, the heifers are free to graze from endophyte-free pastures on the Division of Agriculture's Savoy Research Complex in Washington County. Controlling which feed mixture each heifer can access allows Littlejohn to keep all her animals together instead of maintaining different groups on separate pastures.
Follow-up
Littlejohn said she will monitor the health of the cows now and during gestation. Later, she will track the health and productivity of their calves throughout their lives.
If the research bears out melatonin's effectiveness in mitigating the effects of endophyte toxicosis, it could prove to be a more cost-effective solution than replacing toxic fescue with a non-toxic alternative.
"Melatonin is relatively cheap," Littlejohn said.
Headline image: AUTO-FEED — Beth Kegley, left, and Brittni Littlejohn discuss plans for research projects in cattle nutrition and reproduction using SmartFeed Pro feeders. (UA System Division of Agriculture photo by Fred Miller)