Meat Processing Industry in the Netherlands
The Dutch meat-processing industry comprises around 100 companies and has a turnover of €1 billion a year excluding bacon production according to the 2010 Livestock, Meat and Eggs in the Netherlands report from the PVE.
The industry includes a number of large concerns that produce and market their products in various countries, while others are mainly specialist firms that use traditional production methods and have a more regional function.

Around 4,000 people are employed in the meat-processing sector.
Exports
In 2009, exports of (cooked and/or canned) meat fell by five per cent compared to the previous year and demand in many countries fell because of the economic recession.

About 70 per cent of the exports consist of poultry products. Almost 25 per cent are meat products and cooked/canned pork.

Exports in the meat product sector in 2009 are estimated to be €550 million.

In 2009, the United Kingdom was again the largest buyer of Dutch (cooked and/or canned) meat products. The share of the UK fell slightly to 31 per cent.

The German share of the export market remained at the same level as in 2008 at 22 per cent.

Belgium, which last year imported more (cooked and/or canned) meat products from the Netherlands, took a 13 per cent share of the market.

The report says that a good 92per cent of the Dutch exports of meat products are destined for countries within the European Union. This share has increased over the past years under the influence of the higher euro exchange rate.

Outside the EU the most important destinations are Lebanon, UAE and Turkey.
Exports of (cooked and/or canned) Meat Products in 2009
(excluding bacon, per type of meat)

Bacon
Developments in Bacon Exports 1995-2009
(x 1,000 tonnes of product weight)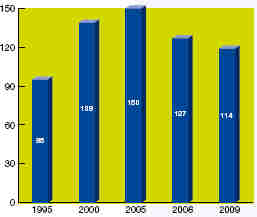 Bacon exports fell by an estimated 10per cent in 2009 to 142,000 tonnes (based on weight including bones).

The UK has, traditionally, been the major importer of Dutch bacon for decades.

Denmark, the most important competitor, sold around an equal amount of bacon to the British market as in 2008.

British domestic consumption of bacon rose by three per cent last year. This represents a continuation of the recovery in consumption levels seen in 2007.
Imports
In 2009 imports of meat products (cooked and/or canned) fell to approximately 275 million kg based on carcase weight - a drop of two per cent. This decrease follows a relatively steep decline in 2008.

More than three quarters of the import consisted of chicken and turkey meat products.

Approximately 20 per cent was pig meat products.

About half the Dutch imports come from Brazil. Imports from Brazil consist largely of chicken and turkey products. This is followed by Belgium and Germany, each with a share of approximately 15 per cent in Dutch imports.
Consumption
Dutch households bought two per cent more meat products than in the previous year. Nearly all Dutch households bought meat products occasionally in 2009.

The percentage of households buying meat products rose slightly to 98.5 per cent.

As the average price of meat products in 2009 was a 1.5per cent higher than in 2008, the amount spent on meat products increased by 3.5per cent to reach € 1.25 billion.