Sorghum seems promising as a fodder crop in the Netherlands
Sorghum can replace silage maize. This is evident from a literature study by Wageningen Livestock Research.

Compared to silage maize, a number of the varieties that have been bred to date produce more dry matter, protein and starch per hectare. Sorghum is also resistant to drought, contributes more to carbon sequestration in the soil, counteracts soil erosion and gives less chance of mycotoxin contamination.
With a production of nearly 60 million tons of grain, sorghum is one of the five most important cereal crops in the world. European production is low, about 0.3 million tons. As a forage crop, sorghum is especially important in South America. In Europe, knowledge about its use as a fodder crop for dairy cattle has been gained, particularly in France and Italy.
Sorghum efficient with water and fertilizers
A forage crop of sorghum with sufficient energy has both green leaves and grain. Sorghum grows on soils where silage maize thrives and can absorb many nutrients in a short time. Sorghum is efficient with nutrients - especially nitrogen - and water. Common pests and diseases in sorghum cultivation occur much less or not at all in northwestern Europe.
In addition, sorghum is not a host plant for the corn rootworm. When choosing varieties and growing in the temperate climate of northwestern Europe, the risk of frost and sufficient ripening in the autumn must be taken into account.
Fodder crop for dairy cattle in the Netherlands?
Since 2005, a grower in Oostburg, Zeeland, has been engaged in the breeding of sorghum for cultivation at a higher latitude with long days and cool weather conditions. In 2016, this resulted in a field trial with seven sorghum varieties and one silage maize variety for comparison.
The sorghum yields ranged from 15 to 20 tons of dry matter per ha against 16 tons per ha for silage maize. The digestion coefficients of the organic matter of the sorghum varieties were 2 to 5% lower than that of silage maize. One variety yielded 10% higher protein contents and approximately 20% more starch per hectare than the silage maize variety. Two hybrid varieties (from the Netherlands) even produced 55% and 60% more starch per ha than silage maize. Current practical research should show whether sorghum can replace silage maize or is interesting as an intermediate cultivation in a continuous cultivation of silage maize or in a combination cultivation with winter grain, for example winter rye followed by sorghum.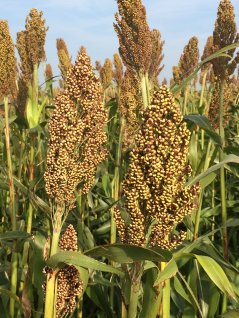 Higher carbon sequestration
The carbon sequestration of sorghum in the soil is 4 to 13 times higher than that of silage maize. In addition, sorghum makes this carbon contribution faster and in deeper soil layers (up to 210 cm depth) than silage maize (especially in the 0-30 cm layer). As a result, sorghum, in contrast to maize, contributes more to the prevention of soil and water erosion.
In addition, a sorghum cultivation emits less greenhouse gases. This fits well with the Dutch climate action plan that will be published at the end of 2017, in which soil is likely to be included as CO 2 storage for agriculture as an elaboration of the Paris climate agreement.