What Could China Offer Northern Ireland's Agricultural Sector?
Livestock and Meat Commission analysts have welcomed new of Defra and China opening routes for UK beef and lamb, but stress that direct trade remains some way off yet.
This is in reaction to events which unfolded last month after the International Meat Secretariat (IMS) and negotiations between the UK and Chinese government bodies.
Opportunity within food exports within China as a centre for protein demand was the take home message for Northern Irish agri-foods leaders.
Ian Marshall - UFU President
•Everyone is well aware of all the statistics regarding world population growth in the next few years, and everyone accepts that with limited land availability, water resource issues and environmental constraints, this promises to be quite a challenge for all the food producing regions to address.
•China without any doubt presents one of the best opportunities for food export, across many sectors due to the size and scale of the nation estimated to be in the region of 1.3 billion, and it's appetite for a more westernised diet.
•The Chinese position now appears to have moved from a nation unwilling to open up to imports to one that recognises that it will have to depend on imported food in conjunction with domestic growth and trade deals or partnerships with outside countries or companies will be essential to feed their people.
•China presents a great opportunity for another option.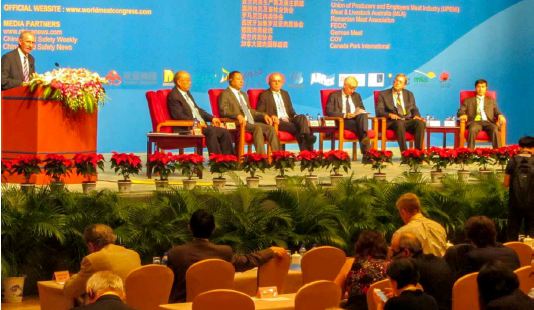 This panel of meat industry leaders from China, Brazil , USA and Denmark at the recent International Meat Secretariat (IMS) World Meat Congress in Beijing run meat businesses with a collective turnover in excess of $120 billion
Photo courtesy of the LMC
Gerry Maguire - Managing Director Linden Foods
•The positive news is that China's fast growing economy (160 per cent GDP growth from 2000 – 2014) and the increasing "middle class" population have a demand for more meat products. They have a taste for lamb and beef which are more expensive (beef prices increased 18 per cent in 2013) and the demand would increase further if they could import more.
•China only processes 15 per cent of all the meat products consumed and beef and lamb slaughtering are in decline. They have a lot of small farmer/producers and non-mechanical butchers involved in informal local meat supply and have a low level of concentration in the long supply chain. Breeding stock and slaughtering have been declining and there are problems with resistance to antibiotics and in most cases antibiotics don't work anymore because of previous overuse.
•25 per cent of the world's lamb and 50 per cent of the world's pork production is consumed in China. Beef imports are expected to grow by approximately 7 per cent per annum in line with the demand coming from the growing middle class and the overall increasing consumption of meat which is 2.5 times greater than the world's average consumption.
Paddy Mc Elroy - LMC Board Member
•It is clear that China represents a major centre for protein demand and that demand is growing and will continue to grow. The main drivers of this demand are the large and growing population, increasing affluence of the Chinese people and the expanding upper and middle classes of that population. While the major meat product demand is for pork and chicken the country has a substantial demand for beef and sheep meat, which cannot be met by domestic production.
•Domestic production of beef increased by 2 per cent last year, however demand has driven a 44 per cent increase in beef imports last year. The leading beneficiaries of this demand have been Australia, Uruguay and New Zealand. Inner Mongolia is the major sheep meat production area of China with a sheep flock of 300m head with annual sheep meat production of 4m tonnes but demand is 5m tonnes.
•To set this in context, China can consume the equivalent of the entire sheep meat production of Australia. With demand for beef and sheep meat products significantly outstripping supply both categories have seen double digit price increases in 2013; beef prices rose by 18.5 per cent and mutton rose by 14.3 per cent.
•China has a vast potential as a market for beef and lamb and truly represents a great opportunity for NI producers and processors. We can offer quality and traceability and we can demonstrate sustainability. These are vital requirements at the top end of the Chinese meat market. We need to make every effort to position ourselves to take advantage of the outstanding opportunity that China offers.
Ian Mark - LMC Board Member
•Travelling as one of a group of eight industry stakeholders from Northern Ireland to China the first thing to note is that China is a long way away – some 14 hours flight time. However the same can be said of most international markets outside Europe. Thus transport and logistics become the first major hurdles to be overcome when exploring international trade opportunities.
•Currently our access to the Chinese market is restricted mainly to back door entry via Hong Kong or Vietnam through a third party, and direct access would greatly help. Much of our current exporting involves 5th quarter type products which are quite difficult to amass in exportable quantities, and a move to include more mainstream products would greatly help our exporters.
•The presence of potential competitors was also highlighted, with Australia, Canada and Brazil and USA all making significant inroads into the Chinese market. The majority of mainstream beef and lamb cuts would come from Australia- fairly obvious given their natural geographic proximity.
•The congress itself had two main themes – Food Security and Food Safety. Both themes were fully explored and the relatively honest analysis by some Chinese speakers was welcome and illustrated the problems created by an ever increasing middle class in China with aspirations to a more protein based western diet. It is not that China is short of food per say, but it is short of the types of food being demanded by its population.