Drought Raises Risk From Sulphates in Water
Cow/calf farmers in South Dakota are being warned sulphates in livestock water sources are acutely toxic at 3000 ppm of total dissolved solids with levels above 2000 ppm capable of reducing performance.
Many areas of South Dakota remain dry from the 2012 drought and Adele Hartley, Field Specialist at South Dakota State University is recommending ranchers test water to assess salt levels of the water.
May and early June rainfall in some areas reached up to 10" over a two week period, which served to recharge some of the dams and dugouts, but variability in precipitation and increased temperatures through June and July may have changed the overall picture, writes Mrs Hartley.
The question every rancher needs to ask himself/herself is "Is the water safe for my livestock to drink?"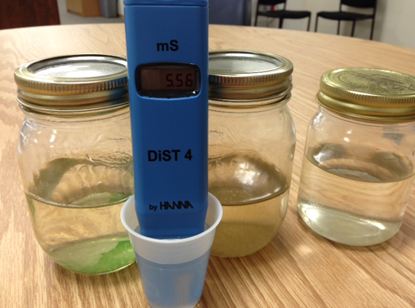 Analysis is required to gauge whether water is safe for livestock to drink - this electroconductivity metre determines whether was is a cause for concern. Photo Courtesy of Adele Hartley
In order to accurately answer this question, the water needs to be analyzed. This can be done initially using an electroconductivity (EC) meter. SDSU Extension Regional Centers and some County 4-H Extension Offices have (EC) meters, which measure total salt content in water.
This provides a reasonable estimate of whether water quality is a concern. There are specific recommendations on Interpretation of Water Analysis for Livestock Suitability. SDSU Extension recommends that if the EC meter reading is greater than 3000 ppm TDS (total dissolved solids) the water could present a problem and should be analyzed by a laboratory to determine livestock suitability.
There are various salts that are detected by these meters, including calcium, sodium, nitrate, and sulfate.
The main concern in western South Dakota is sulfates, which can make up to as much as 60% of the TDS reading. Excess sulfate leads to problems for livestock ranging from reduced water intake to poisoning and death.
Reduced water intake will cause animals to reduce feed intake, leading to reduced performance. A considerable amount of research has been conducted to indicate that sulfate levels from 2000-3000 ppm reduce livestock performance.
At higher concentrations of sulfate, i.e. levels greater than 3000 ppm, sulfates are acutely toxic, contributing to polioencephalomalacia (PEM). This means it causes softening and deterioration of brain tissue.
Symptoms range from reduced water and feed intake, lethargy, star-gazing, head-pressing, blindness, staggering, going down, to death. Cattle can progress through this range of symptoms rapidly without treatment.
This year, nitrates may also be a concern, especially when crop field runoff makes its way into stock dams from heavy spring and summer rains. As nitrogen fertilization increases, this becomes an increasing concern for those with livestock downstream as nitrate is soluble and easily picked up with runoff water.
Typically nitrates in water are more of a problem in wet years with more runoff, as has been seen in certain areas across the state this year. Nitrate toxicity from water is the same as high nitrate forages. Again, high-nitrate forages are thought to be a drought concern, but in the case of water, it is more of a concern in wet years.
Knowledge of water quality gives the rancher the ability to manage and alleviate potential problems. For more information contact your local cow/calf Field Specialist.