Impact of Summer Heat and Nutritional Changes on Reproduction
Dr George Perry from South Dakota State University looks at the effects summer heat and nutritional changes may have had on reproductive performance.

As we move into this fall, many of you will be performing pregnancy diagnosis on your cow herd. With the heat and drought we have had this summer many of you may wonder what the impact may be on your reproductive success.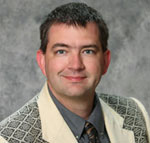 Dr George Perry
SDSU Extension Beef Reproduction Field Specialist
The first impact on reproductive success you may have seen is decreased estrus detection rates if you synchronized your cows/heifers. When the weather is too hot, animals tend not to move around as much and do not show signs of standing estrus. Heat detection is a vital part of getting more animals pregnant. Since fewer animals are seen in heat, fewer animals can be inseminated. In this case, timed artificial insemination (TAI) would be the best protocol to use, because it eliminates heat detection. Timed AI has increased pregnancy rates over animals inseminated 12 hours after estrus detection in conditions of heat stress. This is most likely due to fewer animals showing signs of estrus when under heat stress.

The early stage of development is the time point when the embryo is most susceptible to increased temperatures. Temperature, humidity, radiant heat, and wind all affect heat stress in cows. The rectal temperature of cattle is normally 102.2°F, and an increase in rectal temperature by as little as 2°F can result in decreased embryonic development. When rectal temperatures reach 105.8°F for as little as 9 hours on the day of insemination, embryonic development can be compromised. Heat stress has also been shown to change follicular waves, resulting in reduced oocyte quality. Researchers have shown that heat stress 42 days prior to and up to 40 days after breeding can affect pregnancy rates. However, for those of you that use embryo transfer in your operation, using embryo transfer during times of heat stress can increase pregnancy rates. High quality, fresh embryos have been proven to increase pregnancy rates over AI in heat stressed cows. Embryos at time of embryo transfer can adapt to the elevated temperatures. Therefore, use of embryo transfer during times of heat stress can improve pregnancy success.

The lack of rain in many parts of South Dakota could also have an impact on your reproductive success. Nutritionally mediated changes to the uterine environment can occur by changing components of uterine secretions or by influencing the circulating concentrations of progesterone that regulate the uterine environment. Heifers fed only 85% of maintenance requirements of energy and protein had reduced embryo development on day 3 and day 8 compared to heifers fed 100% maintenance indicating decreased embryonic growth. Therefore, animals that consume less than maintenance requirements due to drought situation during early embryo development may have decreased embryo survival. In addition, when animals are supplemented to make sure requirements are met, it is important that their diet is balanced for both energy and protein. Excess protein intake can directly influence the uterine environment. Excess intake of protein (25% excess of UIP or DIP) had no effect on uterine environment on the day of estrus but altered the environment of the uterus on day 7 and has been reported to decrease conception rates. Therefore, excess or under nutrition can have a tremendous impact on embryo survival and the ability to conceive or maintain pregnancy during a defined breeding season.

Getting cows/heifers pregnant during the breeding season, especially early in the breeding season, can have a tremendous impact on the profitability of a cow/calf operation. Tremendous amounts of time, effort, and costs are required to have a successful breeding season (natural service or AI), and both heat stress and changes in nutritional level during critical time points of embryo development can have a tremendous negative impact on pregnancy rates.

More details about how heat stress and drought can impact reproductive success as well as information on how nutrition, genetics, and management decision can impact the reproductive success of you operation will be covered at the Applied Reproductive Strategies in Beef Cattle conference this 3 and 4 December. For more information on this conference visit the conference website.
October 2012