Irish Meat & Livestock Review & Outlook 2011/12
The combined value of meat and livestock exports grew by an estimated 11 per cent to almost €2.8 billion in 2011. All the main species experienced strong growth with the exception of live exports.

Review of 2011
A decrease of almost five per cent in finished cattle supplies coupled with strong demand on key export markets, led to a rise of 18 per cent in average cattle prices. This helped increase the value of beef exported by 15%, or more than €230m in 2011 despite some fall in export volumes. For the year, beef exports were valued at €1.8 billion.

A rise of almost 10 per cent in pig supplies coupled with higher average prices boosted the value of exports by 18 per cent to €395m.

Poultry exports were boosted by increased volumes as average prices for fresh/chilled products were largely unchanged. This resulted in the value of exports rising by an estimated three per cent to €210m.

The value of sheepmeat exports increased by 10 per cent to reach an estimated €180m. Despite sheep supplies showing little change, this was more than offset by a strong price increase, as lamb prices increased by nine per cent.

The weakening in demand for live cattle and sheep reduced the value of livestock exports, with a fall of 16 per cent recorded at €205m.
Prospects for 2012
The prospects for the meat & livestock sector in 2012 remain broadly positive with a tight supply situation both in Ireland and across Europe expected to boost the value of beef exports. Total finished cattle supplies at export meat plant are expected to fall by around 70-90,000 head.

Sheep supplies are expected to increase by around two to four per cent which should help maintain and boost the value of sheepmeat exports.

Some modest decline in pig supplies should leave meat export plant supplies running at around 2.8 million head reflecting some reduction in the pig breeding herd, on-going high feed costs combined with legislation in relation to the 'partial' sow stall facilities which come into effect from 2013.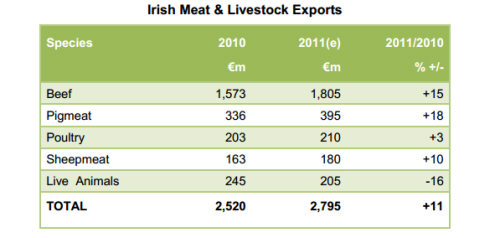 Further Reading