Optimistic Outlook For UK Beef Sector
With beef prices at record highs, optimism in the UK beef industry is growing. However climate change and consumer perceptions are two challenges reports Charlotte Johnston, TheCattleSite editor.
Finished British cattle prices over the last year have steadily increased reaching a record high. This is a different trend than has been seen over the last two years, where prices remained relatively stable. In 2010 the price fell from 280 pence per kg deadweight to 265 pence per kg deadweight.

Currently producers are seeing returns of nearly 330 pence per kg deadweight.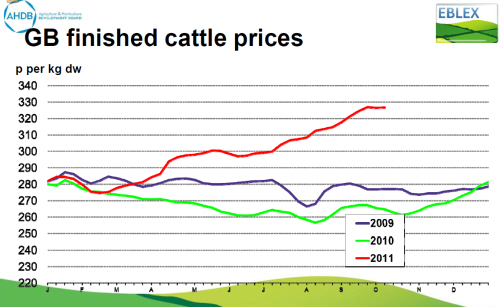 UK cattle herd trends have continued to marginally decrease over the last 10 years, however it is estimated that this herd decline will level out in both the beef and dairy sectors. This suggests a degree of stability in the industry, said Mr Allen.

Beef production in 2011 is estimated to be 919,000 tonnes, of which 195,000 tonnes is cow beef.

There is an optimistic outlook for the industry, said Nick Allen, EBLEX sector director at the EBLEX annual conference. With the breeding herd stabilising, exports are likely to remain firm but supply and the exchange rate are not set in stone.

Cattle supplies and the UK's economic recovery will be factors in determining consumption, Mr Allen said.
Consumer perceptions on health
Assurance marks have an increasing impact on consumers, according to research carried out by Eblex.

"However consumers still have a nagging feeling that beef is not healthy for them," Mr Allen said.

Three decades of criticism and adverse publicity has worked against beef producers. Beef is linked to BSE, e. coli and foot and mouth. Recently, he said, it has been linked with cancer.

In a survey carried out by Eblex, 20 per cent of respondents said that they didn't think beef was very good for them. Other factors limiting how often people eat beef included the expense of it.
Marketing British beef
Mr Allen asked whether just sticking the Union Jack (the British flag) on a product was enough to ensure that consumers are buying British?

"We have to keep working to improve assurance schemes and quality standards, to ensure improved eating quality.

Eblex looked at what would encourage consumers to buy beef more often, and again price was a driving factor. As well as a cheaper price, it appeared that consumers were unsure how to cook beef, had little information on the variety of cuts available and ways to cook them. As well as this access to quick and easy recipes should be made available.

Positively, all consumers regard beef as a tasty meal.
Climate change
Climate change is a huge challenge, which Mr Allen believes can be addressed through improved efficiency. Mr Allen said that this is a challenge that should be embraced as it offers opportunities for producers to improve their businesses.

Eblex has created to roadmaps, both aimed at improving efficiency at a farm level. A third roadmap is currently being put together, said Mr Allen.

He said that although it is important to act now on climate change, it doesn't seem to be of great concern to the consumer. Changes in consumption have little to do with consumers wanting to reduce their carbon footprint, but as mentioned above are driven by price and diets.

Conclusion

Concluding, Mr Allen said: "We will see stability in the sector for the next three to five years. Whilst there are challenges that face the UK industry, there are also opportunities. Next year England will host the 2012 olympics - how can we, as beef producers, take advantage of this situation?

"We must ensure that our product is differentiated from the rest, maximise the value gained from the carcase and protect our export market."

December 2011