Ireland Looks To Germany For Beef Export Opportunities
Ireland is the fourth largest exporter of beef worldwide and is now looking to Germany to increase its market share, said Justin McCarthy, Editor for the Irish Farmers Journal at the Eblex Annual Conference 2011. Charlotte Johnston, TheCattleSite editor, reports.
The importance of agriculture in Ireland has increased substantially over the last two years. One in every seven people is employed in the industry and because of this it has taken a central role in politics.

The country has on average 2.2. million cows, with an even split between beef and dairy. Of the dairy herd, it is estimated that 350,000 cows are inseminated to beef sires.

Beef exports

Beef exports in 2010 were worth €1.86 billion, and are estimated to be worth €2.1 billion this year.

Surprisingly for some, Ireland is the fourth largest beef exporter in the world. Mr McCarthy pointed out that only 10 per cent of production is consumed on the domestic market.

Ireland has a population of four million, yet produces enough beef to feed 30 million people.

The UK is the largest importer of Irish beef, taking 52 per cent of the market, followed by France and the Netherlands.

12 per cent of world beef production is traded. Brazil dominates 40 per cent of the market, followed by Australia with a 28 per cent share. The US comes in third with 16 per cent of the world market, Ireland holds 10 per cent and Uruguay eight per cent.

For Ireland, the export focus is to sell beef to premium European markets, however over the past year sales outside of the EU have increased.

Live exports have also seen dramatic increases, hitting a 10 year high. In 2010, 300,000 cows and 160,000 calves were exported to the EU.

During the first seven months of this year, exports increased by five per cent.

Future markets

Despite tight production, the Irish are still looking at expanding their export markets.

Three per cent of Irish beef exports end up in Germany. This market, Mr McCarthy said, has huge potential for Irish beef.

In 2012, Ireland aims to export 15,000 tonnes of beef to Germany, and double this in future years.

With Argentinean beef exports at a low, Germany has had to look elsewhere for its increasing beef imports.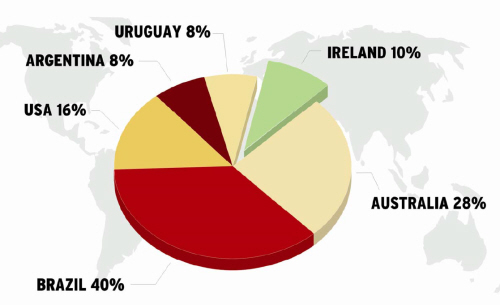 World beef trade
2012 Production

There is much speculation at the moment about future production, said Mr McCarthy.

It is predicted that beef production in Ireland will fall in coming years - cattle supplies at the moment are especially tight. To date, 2011 kills are the lowest since 1996.

Estimates are that cattle numbers will be down by 157,000 head next year. "It probably hasn't reached this," said Mr McCarthy, "But we will probably be down around 100,000 head on production, which will have affects on exports and cattle slaughter in coming years."

Production will fall for a number of reasons. Live exports have increased - taking away from the Irish breeding herd.

The ongoing Common Agricultural Policy changes have reduced support available to producers, leaving out of profit and exiting the industry.

The economic crisis has put farms under further financial pressure, with many lowering herd numbers.

Over the last two years, beef cow calvings in Ireland have fallen by 14 per cent. Calf registrations between 2009-2010 fell by 100,000 head. This will affect the number of cattle available to slaughter next year.

"This will undoubtedly have an effect on our export markets," Mr McCarthy said. "And export capacity will decline."

However, production is expected to stabilise towards the end of 2012 and 2013.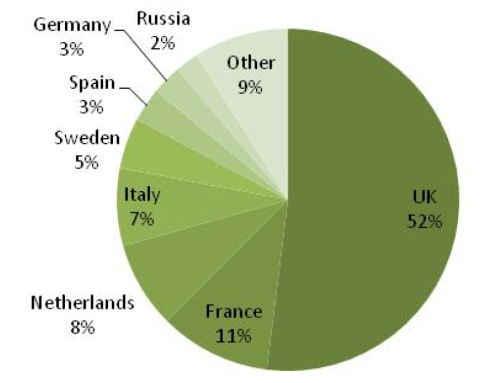 Irish exports 1st half 2011
Beyond 2013 Ireland has the potential to grow beef exports by 25 - 40 per cent, if producing beef efficiently.

The government has set out plans to double the output of the dairy sector by 2020, in the Food Harvest. This would mean an extra 100,000 dairy bred calves, and increase cow slaughters.

Food Harvest 2020 has set targets to increase beef output from suckler herds by 40 per cent, which will increase the output value by €550 million.

In order to meet these targets producers must become more efficient at producing beef. This can be done through increasing cow numbers, improving calving rates, ensuring animal health is optimised and using the best genetics.

On the global market huge opportunities are present for Irish beef. EU production is expected to fall by two per cent in 2012, however demand for beef is increasing on the domestic and international markets.

World beef prices have increased substantially over the past year, and this is great for Irish beef producers. However to keep ahead of the game Ireland must develop efficient production systems, as high prices will not deliver profit.

November 2011