Irish Beef Outlook For 2011
The prospects for 2011 point to a relatively tight supply situation across Europe while Irish finished cattle supplies are set to tighten considerably, reports Bord Bia, the Irish Food Board.
This combined with the strong rise in cattle price among leading global exporters and a more stable consumer demand all suggest a stronger market environment for Irish beef.

EU-15 beef production is to fall by around 2 per cent to 7.1 million tonnes. Most of the decline in output is expected amongst the key principal suppliers, namely France, Germany and the UK. In addition, a number of Member States expect a stronger trade to International markets. German exports to international markets are forecast to double to 38,000 tonnes while Spain and Italy are also expected to record higher shipments outside of Europe. This will impact on availability within Europe, particularly for forequarter beef.

South American export availability in 2011 looks set to remain constrained by the ongoing decline in shipments from Argentina, which fell by an estimated 50 per cent in 2010. In 2011, it is expected that the combined exports of Brazil, Argentina and Uruguay - which between them accounted for almost 85 per cent of EU imports in 2009 -will be around 500,000 tonnes below 2007 levels at 2.9 million tonnes. Despite Brazilian exports rising by around 5 per cent in 2010, shipments to the EU were unchanged with all of the growth taking place in the Middle East and to a lesser extent Asia.

Imports of fresh and frozen beef from Brazil into the EU continue to run at just over one fifth of 2007 levels. The number of Brazilian farms approved to supply the EU has been slow to increase and in December 2010 stood at just over 2,200. While some further recovery is expected in Brazilian beef exports in 2010, volumes shipped to Europe are unlikely to increase strongly, unless EU prices strengthen considerably.

During 2010 there was a considerable convergence evident in world and EU cattle prices reflecting tight global supplies and an improved demand in key import regions such as the Middle East and Asia. By December 2010 Brazilian steer prices stood at almost 95 per cent of the EU-15 average male cattle price, which compared to just 60 per cent at the start of 2010. This greatly reduces the relative competitiveness of Brazilian beef on the European market.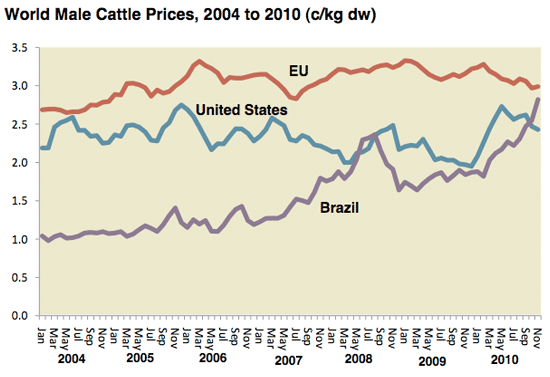 A significant tightening in Irish finished cattle supplies is anticipated for the 2011 – 2012 period as the strength of live cattle exports over recent year's impacts on availability. Figures from the Department of Agriculture, Fisheries and Food's AIM database for the 1st October 2010 confirm the decline in younger cattle numbers with a drop of 267,000 recorded in the number of cattle less than 36 months. Some 236,000 of this is evident in animals less than 24 months of age.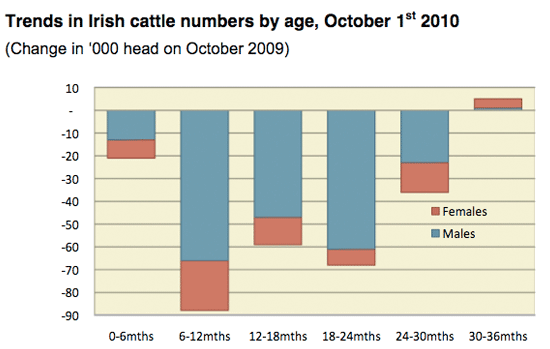 Source: Dept of Agriculture, Fisheries and Food.
The figures for 24 – 36 month old animals showed a fall of 22,000 in male cattle with females 9,000 head lower than October 2009. With steer and older bull disposals 3,000 head higher during the October to December period and heifer supplies marginally back at 108,000 head, it would suggest the tightening in finished cattle availability is likely in early 2011.

With live exports of finished cattle likely to be largely maintained in 2011, and assuming stable cow disposals, total finished cattle supplies at export meat plant are expected to fall by more than 100,000 head.

The outlook for Irish live cattle exports remains broadly positive for 2011 with demand from key markets such as the Netherlands, Italy and Spain set to be maintained.

The veal market has held up well considering the economic downturn evident across Europe, although the rising price of milk replacer may impact on supplies as 2011 progresses. However, supplies from other key suppliers such as France, Germany and to a lesser extent Poland are unlikely to increase, which should help Irish export levels. Much will depend on price levels both in Ireland and key markets.

In terms of the trade for weanlings and stores, feed costs are likely to play a key role in determining demand levels in markets such as Italy and Spain.

In terms of the UK, and particularly Northern Ireland, an ongoing strong trade for both finished cattle and weanling/stores is anticipated given the relative tightness in NI supplies anticipated over the course of 2011.
April 2011