VLA September 2010 Update
Histophilus somni associated with vaginitis in cattle is associated with poor fertility and was recently found on a 450 milking herd in Carmarthen, says the Veterinary Laboratory Agency's UK animal health survey.
Reproductive Disease
Chlamydophila Abortion
Thirsk diagnosed Chlamydophila abortus as the cause of abortion in a four- and-a-half year-old Simmental suckler cow which was 7 months in calf. The cow was the third to abort over the last few months from a herd of 100 cows; the other two abortions were not investigated. Necropsy revealed marked oedema of the placenta with coalescing areas of a pale white firm layer covering parts of the intercotyledonary areas. The diagnosis was confirmed by PCR testing. The source of the infection was not identified although cattle had been introduced into the herd and there was a sheep flock on site.
Abortion due to multiple causes
Thirsk received bulk milk and ten blood samples from a 60 cow herd following 13 abortions over the preceding four months. A bulk milk PCR test was positive for BVD virus indicating the presence of either a persistently infected animal or of active infection; the bulk milk ELISA for BVD was high positive; Leptospira hardjo MAT titres ranged from <1/50 to 1/400 and Neospora result indicated that half the animals were seropositive. Thus three potential causes for abortion (BVD, Leptospira hardjo and Neosporosis) were present and active in the herd at the same time. It was recommended that follow-up blood testing be carried out and any further abortions investigated thoroughly.
Salmonella Dublin and BVD
Salmonella Dublin was confirmed by Aberystwyth as the cause of an abortion outbreak where five heifers and one mature cow had aborted in a 150 cow dairy herd. The heifers had all aborted within a week and were in a single group of 20 heifers at grass. Salmonella Dublin was isolated from the foetal stomach contents from one case and the foetal spleen also tested positive for BVD type 1 by PCR. Salmonella Dublin was also isolated from fetal samples from another heifer and the mature cow. Although Salmonella Dublin appeared to be the main cause of the abortions, circulating BVD may also have been contributing to losses.
Histophilus somni vaginitis
Carmarthen investigated a problem of poor fertility and retention of foetal membranes affecting a 450 cow milking herd. Bacteriological culture of purulent vaginal discharge from 14 cows yielded growths of H. somni from six. H. somni was also cultured from the sheath washing of one of two working stock bulls. It was not clear whether this bull had acquired infection from infected cows during service. The farmer was advised to antibiotic sheath wash the bulls and cull the more chronic non-responsive metritis cases where H. somni had been cultured. A similar disease outbreak associated with H. somni, has been described previously. (Van der Burgt, Veterinary Record (2007), April 28, page 600).
Alimentary tract diseases
Coccidiosis
Coccidiosis was frequently reported as a cause of diarrhoea in calves. Penrith diagnosed the condition on four occasions in calves aged between one month and four months. Langford reported that calves were affected from 4 weeks old and that oocyst counts ranged from 1050 to 140 00 oocysts per gram, illustrating the variability that can be seen associated with clinical disease. Shrewsbury diagnosed five incidents of the disease, most frequently in calves aged 3-8 weeks. In one case the affected 10 to 12 week calves had been receiving supplementary feed with anti-coccidial but analysis of the feed by the manufacturer confirmed lower than prescribed drug concentrations.
Fasciolosis
Eighty incidents of Fasciolosis were diagnosed in England and Wales during the month. Twelve Regional Labs diagnosed cases. This high number of incidents is consistent with the increasing national trend in the third quarter of the year.(see Figure1)

Starcross diagnosed fluke infection on 12 farms, with Fasciola hepatica identified on nine and Paramphistomum sp on four. Salmonella Typhimurium was a co-infection to F hepatica on one farm. Langford also reported the disease to be a common diagnosis in adult cattle being identified in 9 herds. Shrewsbury diagnosed fasciolosis on 12 premises in Staffordshire (6), Shropshire (2), Herefordshire (2) and Cheshire (2). All were in adult cattle including one group of finishing animals. They also confirmed Paramphistomum species infestation (rumen fluke) in one herd in Staffordshire.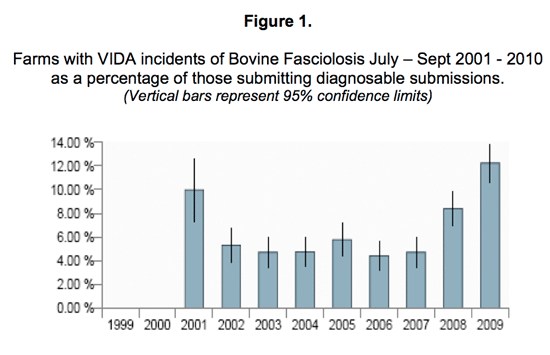 Parasitic Gastroenteritis (PGE)
Fifty three incidents of PGE were diagnosed by 12 regional laboratories. Langford diagnosed parasitic gastroenteritis in 3 groups of animals this month. In one case involved a group of 25 six month old dairy calves at pasture, which had moved fields within the previous month. One calf died and 30 per cent of the group were affected. The number of incidents of PGE diagnosed is consistent with the national increased incidence observed in the third quarter since 2006.
Respiratory Diseases
Lungworm
Penrith diagnosed lungworm (Dictyocaulosis) as the cause of ill thrift in a group of 4-month-old suckler calves at grass which also showed evidence of parasitic gastroenteritis.

Starcross also diagnosed lungworm as the cause of ill-thrift and pneumonia in a group of 60, nine-month-old bullocks. Post-mortem examination of an affected animal revealed numerous lungworms within the bronchial tree.
Bacterial Pneumonia
Langford investigated a case involving a calf rearer who had problems with calves not drinking properly and subsequent ill-thrift. Over a twelve month period about 12-15 calves had been affected. A typically affected calf was necropsied and revealed severe chronic bacterial pneumonia. Mannheimia sp. (possibly Mannheimia varigena) Pasteurella multocida and Arcanobacterium pyogenes were isolated from the lung. Despite the animal being aged four weeks, gammaglobulin levels were only 16.2 ZST units, (reference range >20) indicating poor colostral intake and this could have been a predisposing factor.

Shrewsbury investigated an outbreak of severe respiratory disease in a suckler herd. Post mortem examination of one fatality revealed septicaemia, peritonitis and hepatitis. The lungs were also very haemorrhagic. Mannheimia species were isolated from the lung and histopathology revealed severe acute primarily interstitial pneumonia.
Nervous Diseases
Hypomyelinisation caused by BVD
Truro investigated a one-week-old Holstein Friesian bull calf which had suffered from tremors from 24 hours of age, the second case in a group of 52 calves. Clinical examination had revealed a weak, wide based stance, apparent blindness and the calf was unable to rise unaided. BVD antigen was detected by Erns ELISA but no BVD antibody was detected, strongly suggestive of persistent infection with BVD. The clinical signs were consistent with hypomyelination, a relatively rare primary clinical manifestation of persistent infection. A paper by Otter and others (2009 Vet Rec 164, 771-778) suggests that calves may present with this as the primary clinical sign of BVD when infection of the dam occurs on the cusp of the first and second trimesters of pregnancy.
Other Diseases
Babesiosis
Starcross diagnosed four incidents of Babesiosis. Typical clinical signs described included pale mucous membranes, tachypnoea, recumbency and sudden death. In three cases the animals affected were recently purchased.
Bibersteinia trehalosi septicaemia
Septicaemia caused by Bibersteinia trehalosi was diagnosed as the cause of death of a five month old beef-suckler calf submitted to Aberystwyth, the second sudden death within a week in a group of 10 calves, in a herd of 100 cattle. Haemorrhagic faeces had been noted and blood ran from the nose of the carcase. Anthrax smears gave negative results. Necropsy revealed dramatic haemorrhages extensively throughout the carcase which included frank blood in the abdominal cavity. Deep necrotic gastrointestinal ulceration was found in the mucosa of the pharynx, larynx, rumen and abomasum. The organism was isolated from various organs alongside Fusobacterium necrophorum necrophorum and Fusobacterium necrophorum funduliforme in the liver and a pharyngeal ulcer. The calf had been on a bracken fern area and bracken poisoning was suspected as a possible cause of immunosuppresion.
Fatty Liver Syndrome
Sudden onset malaise and profuse diarrhoea were reported in a single, in-calf dairy heifer, three weeks following its importation at seven months gestation. A bilateral, blood-flecked, serous nasal discharge, staggery gait, dehydration and slight pyrexia were also described. The animal had initially been in good body condition but recent weight loss was reported. The heifer died a week after the onset of clinical signs. Investigations included parasitology, Salmonella culture, BVD and MCF testing, all of which gave negative results. Blood biochemistry revealed very high levels of liver enzymes, total and direct bilirubin, indicating severe cholangiohepatitis. A NEFA level of 1508 μmol/l (0-600) confirmed a diagnosis of Fatty Liver Syndrome. The recent stress of transport, mixing with other heifers from as many sources, change of diet and environment may have been predisposing factors.
November 2010