Emerging From The Shadow Of Climate Change
The global livestock industry is casting a long shadow in the way the industry is adding to climate change, writes TheCattleSite senior editor Chris Harris.
The industry uses 26 per cent of land for pasture and 35 per cent of all arable land for livestock feed. It also has a vast capacity to consume biomass and uses eight per cent of the total water usage in the world.

In all, it contributes 18 per cent of global greenhouse gas emissions.

Speaking at the World Meat Congress on the theme of the sustainability of the meat industry, Henning Steinfeld from the Food and Agriculture Organisation of the UN said that a total of 7.1 billion tonnes of greenhouse gas emissions - methane and nitrous oxide - are emitted through livestock production.

And he said that the main areas for CO2 emissions are through livestock land use and deforestation.

In all the livestock industry emits 2.7 billion tonnes CO2 which is nine per cent of total anthropogenic CO2 emissions. In methane is emits 2.2 billion tonnes CO2 equivalent or 37 per cent of total anthropogenic CH4 emissions and for Nitrous oxide it emits 2.2 billion tonnes CO2 equivalent, or 65 per cent of total anthropogenic N2O emissions.

The major contributions come from deforestation, which contributes 35 per cent of the total CO2 equivalent greenhouse gas emissions, followed by enteric fermentation and the emission of methane from livestock which accounts for 26 per cent of the total and then the production of manure accounts for 25 per cent of the total emissions.

The carbon dioxide emissions come from land use and land-use change and this is caused by the expansion of pasture and feed-crop into forest land - land speculation.

Mr Steinfeld said that this can be slowed down or halted by area protection and carbon markets and by increasing and maintaining productivity on deforested land to curb future expansion.

"The livestock industry needs to dissociate itself from deforestation practices," he said.

However, he said that the livestock industry needs to find a cure for the emissions of methane that come from the guts of ruminants and from liquid waste.

He said they can be reduced by higher productivity and feed additives/vaccination and a shift to meat production using monogastrics would help the situation.

Methane production from caused by anaerobic storage of waste (archaea) can be drastically reduced by covering lagoons, Mr Steinfeld told the congress.

He called for competitive measure to encourage livestock owners to use the potential of the methane from liquid wastes to convert it to electricity through anaerobic digestion.

However, he said the contribution to greenhouse gas mitigation that use of the methane for power provides depends on price of fuels and carbon. He called on the industry to make energy recovery from waste the standard.

The nitrous oxide emissions that come from manure storage and use and from fertiliser use for feed can be reduced by improved technologies, Mr Steinfeld said.

He said it was necessary to limit the nitrogen in waste through feeding regimes that maximise feed efficiency. However, he added that this requires regulations and voluntary standards.

"Production intensity is key to reducing greenhouse gas emissions," he said.

"As you move up in intensity you can reduce the emissions per unit."


Emission Intensity
(direct emissions from livestock)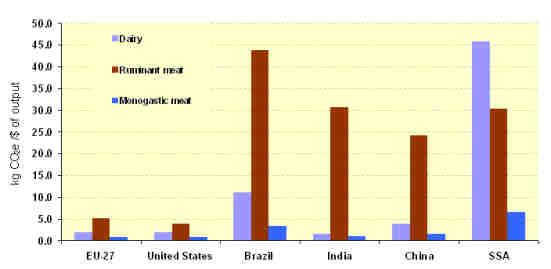 However, he said that while intensive systems concentrate the problem, they also have negative impacts, such as their effect on the water table and pollution and also the image of animal welfare in the eyes of the consumer.

He added that there is no reason why being intensive cannot also be associated with answering welfare and environmental issues.

Mr Steinfeld said that meat and milk production has increased above the rate of land use for pastures and feed crops and he added that there are ways of reducing the shadow over the industry by technical means and through adopting different policies.

"Technical options are available and policy instruments are required to stimulate implementation of a portfolio of options," Mr Steinfeld said.

"Intensification and efficiency gains are key to reducing the 'shadow'."

He said the industry needs different but complementary strategies.

He said that intensive systems have limited options for mitigation, but they can focus on land use emissions associated with feed. With extensive systems he said there are often huge opportunities for productivity gains and this will bring high mitigation potential and intensification.

He said the industry needs to focus on harnessing synergies with food security, adaptation and low carbon development through these extensive systems.

He said the industry needs to take up the role of pioneering change.


Land-use Area for Livestock Production and Production of Meat and Milk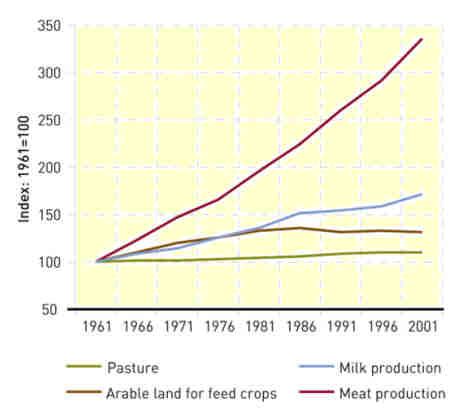 Bryan Weech, Director, Livestock Agriculture for WWF-US said the world needs to produce more from less.

He said the situation cannot continue as it is because at present 33 per cent of the world's surface or 58 per cent of habitable land is used to produce food.

The world population is growing and is expected increase by 3 billion to reach 9 billion by 2050 - a population that will need to be fed. Consumption is expected to double and 70 per cent of the population will live in cities.

Mr Weech said that improved management and increased use of genetics together with technology will all help to control production and improve performance.

"There are a series of measures that can be used to improve production. There is not just one solution," he said.

"Voluntary best practice can help the industry."

He said the beef industry needs to use science to improve its production methods.

At present beef production uses 60 per cent of all land used to produce food but it only produces 1.3 per cent of all calories.

He said that to improve beef production, the industry needs to be science based and should not just focus on just one thing. Nor should it try to focus on everything. It needs a consensus on six to eight key impacts.
October 2010