Beef From Market Cows: Classification
For most beef and dairy producers, marketing culled cows translates to 15 to 25 per cent of their annual income and clearly contributes to the profitability of their operation. The first of this three part feature from the Center for Research & Knowledge Management in the Department of Research, Education & Innovation at the National Cattlemen's Beef Association looks at the classification of market cows.
Introduction
For years, cattle producers have been searching for ways to increase the profitability of their culled cows and have incorporated management decisions such as feeding culled cows prior to selling and holding cows until seasonality differences in the beef market favor increased market-cow prices (figure 1). Regardless of what beef producers are doing or not doing to improve the profitability of culled cows, the vast majority of cows entering processing facilities result from live-auction markets, creating a tremendous amount of variation in the composition and quality of cows entering the beef market.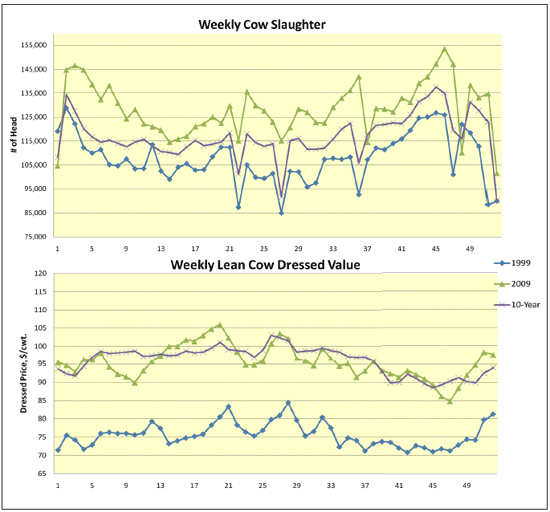 Figure 1. Weekly Market Slaughter and lean cow dressed value figures illustrating market tendencies and seasonal cow marketing (Source: USDA, AMS, Market News)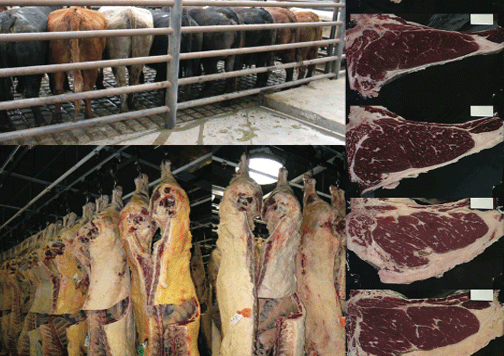 Figure 2. Cow carcase and ribeye images illustrating the amount of variation in live animal and carcase composition that exists in the market cow industry.
The cull-cow market comprises a significant portion of United States (US) Beef production. In fact, culled market cows, cows culled from cow-calf and seedstock producers as well as dairy operations, have consistently accounted for 17 to 19 per cent of all cattle harvested in the US each year. This equates to just over six million head and nearly 80,000 metric tons of boneless beef produced annually in over 55 major facilities. Most consumers believe that all cow beef ends up as ground beef and ultimately serves as the source for hamburgers in fast food restaurants. While the majority of boneless beef products produced from market cows is ultimately destined to be ground beef, nearly all facilities that are processing cows are producing whole- muscle cuts. These cuts include round cuts that serve as pure lean sources to upgrade conventionally produced ground beef, as well as rib, loin, round and chuck cuts that are merchandised as steak and roast items for foodservice applications. The most recent national market cow and bull audit (ncba, 2007) indicated that 100 per cent of audited facilities were producing rib and loin cuts and showed that an increasing number of companies were producing cuts from all primals. With the largest and most innovative packing companies that harvest market cows updating their facilities to accommodate the production of steak and roast items, the beef industry can expect to see an increased availability of "premium" cow products offered as lower- priced foodservice items destined for lower-end restaurants, buffets and cafeterias. Regardless of the price paid for these items and the cookery method employed, market- cow beef will have an increased influence on beef-eating experiences in the US for years to come.
Classification of Market Cows
Primarily, as a result of chronological age and carcase maturity, the vast majority (> 85 per cent) of culled market cows are not eligible for the traditional fed-beef United States Department of Agriculture (USDA) quality grades of Prime, Choice, Select and Standard. Cows that are greater than 42 months old are eligible for USDA carcase quality grades of Commercial, Utility, Cutter and Canner (figure 3). Even though some culled cows may qualify for youthful carcase quality grades and cow carcasees could be segregated by usda quality grades for old beef animals in combination with usda yield grades to estimate carcase composition and red-meat yield, usda quality and yield grades do not reflect common trade practices for market cows. Therefore, usda graders are not commonly employed to apply quality or yield grades to cow carcasees.

Instead, market cows are commonly procured based on body condition scores (bcs; primarily a measure of live Animal fatness) and are projected by cow buyers to fit Into one of four carcase classifications. The four carcase Classifications are described as follows (descriptions taken from peel and doye, 2008):
Breakers (or breaking utility): Cows with a bcs of 7 or higher and a yield grade range of 2 to 4 (estimated red meat yield of 75 to 80 per cent) that show considerable muscling; processed into various cuts
Boners (or boning utility): Cows with a bcs of 5 to 7 and an estimated red meat yield of 80 to 85 per cent; normally boned for processing beef after removal of merchandisable cuts
Lean: Cows with a bcs of 1 to 4 and an estimated red-meat yield of 85 to 90 per cent; will yield at most a few merchandisable cuts with the majority of the carcase used for boneless processing beef
Light: Cows that may vary in estimated red meat- yield from 75 to 90 per cent; always produce fewer pounds of boneless beef because the animal is small in overall size and weight, very light muscled and/or extremely thin in fleshiness.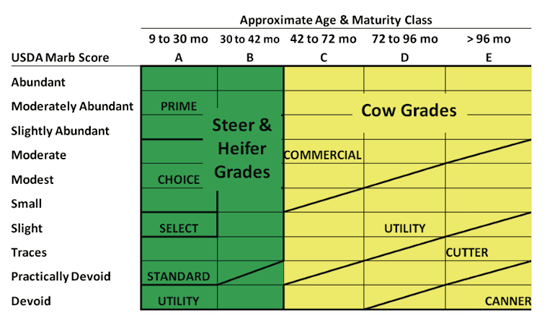 Figure 3. Marbling and maturity relationships to determine USDA quality grades
Marketing Class
Red Meat Yield per cent
Dressing Percentage
Approximate carcase Quality Grade*
Body Condition Score
Breaker
75 - 80
High
Average
Low
Commercial
Commercial
Commercial/Utility
8 - 9
8
7 - 8
Boner
80 - 85
High
Average
Low
Utility
Utility
Utility
6 - 7
6
5.5 - 6
Boner
80 - 85
High
Average
Low
Utility
Utility
Utility
6 - 7
6
5.5 - 6
Lean
85 - 90
High
Average
Low
Utility/Cutter
Cutter
Cutter
4.5 - 5.5
4 - 4.5
3 - 4
Light
75 - 90
Average
Low
High
Cutter/Canner
Canner
Cutter
2
1 - 2
2 - 3
A table constructed by peel and doye (2008) is presented to illustrate the relationship between bcs, market classifications and carcase characteristics for young beef cows (table 1).
Without the use of usda grading personnel in the majority of cow plants, cow carcasees are commonly sorted by company personnel based on perceived carcase quality characteristics. Sorting decisions are most routinely based on the evaluation of carcase traits that indicate the level of feeding that cows have received prior to slaughter including fat colour, lean colour, amount of muscling and degree of marbling. Cows that have received a high-energy diet for an extended period of time prior to harvest tend to have lighter- or whiter-coloured external and intramuscular fat, and also tend to have lighter, more youthful lean colour scores, higher levels of intramuscular fat or marbling, a greater degree of external fatness and a greater amount of muscling. In contrast, cows that have received a lower plane of nutrition (primarily forage-based) produce carcasees with more yellowish-orange coloured fat, darker, less desirable lean colour scores, lower levels of marbling and lesser amounts of muscling.

Generally speaking, animals that have received a high-energy diet prior to slaughter are obviously different in appearance and are easily identified in a carcase cooler that contains non-fed carcasees. It has been well documented that this type of cow produces higher quality muscle cuts with greater palatability ratings and increased consumer acceptance of steak and roast items. This type of cow is known in the industry as a "white-fat" cow, which almost always demands a premium from packers. Packers sell white-fat middle meats and other whole-muscle cuts to foodservice companies who commonly have implemented their own specifications and/or standards for fat and lean colour scores.
Further Reading
August 2010