Lower Global Beef Production In 2010
Beef output among leading global players looks set to fall in 2010 before recovering slightly in 2011 with export availability following this trend, according to Peter Duggan, Strategic Information Services, Bord Bia.
This would leave exports broadly similar to 2008 levels. The reduced beef availability is being driven by the on-going liquidation within the Argentinian herd, although this is being partially offset by increased exports of Brazilian and US beef.

Beef output among the key global beef exporters is expected to fall by more than two per cent to 25.6 million tonnes in 2010.

Brazilian output has edged up so far in 2010 after declining over the previous three years. Increased carcase weights are expected to boost 2010 production by three per cent to 8.55 million tonnes.

Argentinian output for 2010 is forecast to fall by more than 20 per cent to its lowest level since the 2001 to 2003 period.

This reflects a lack of confidence in the sector, which combined with drought led to unprecedented levels of disposals during the second half of both 2008 and 2009.

A further decline in output seems likely for 2011. An increase of three per cent is anticipated in Uruguayan beef production for 2010 before tightening in 2011.

Some decline in US beef output is forecast for 2010 in response to declining feedlot production with this trend set to accelerate in 2011. Australian production is also expected to fall in 2010 with little change forecast for 2011.

Beef exports among the five key global exporters, which account for two thirds of global trade are expected to fall by two per cent to 5.02 million tonnes in 2010.

A drop of 40 per cent in Argentinian exports will offset an anticipated recovery of seven per cent in Brazilian shipments following declines in 2008 and 2009.

The recovery in Asian demand for American beef is continuing in 2010 and is expected to boost US exports by 10 per cnet before stabilising in 2011. Australian exports are expected to fall by five per cent on the back of lower supplies and relatively competitive export markets.

EU output is expected to ease slightly to 7.89 million tonnes for 2010.

Some decline in French, German and Dutch output is expected to be counteracted by increased UK output. Beef consumption within the EU is expected to be unchanged in 2010 at 8.21 million tonnes.

Prospects for 2011 suggest some further modest tightening in output, with little change anticipated for consumption.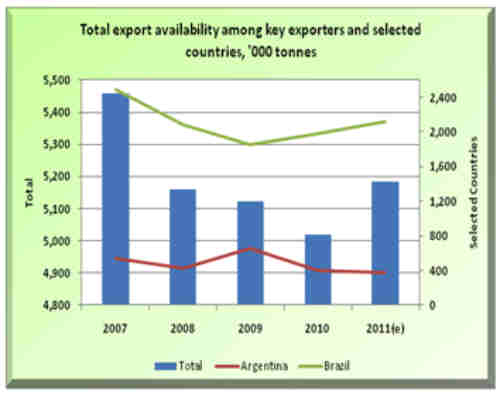 July 2010