Blade Farming: Contract Rearing Veal Calves
Blade Farming produces veal to set criteria, with regard to quality, carcase weights, health and welfare. The system pays producers a forward guaranteed price, assuming all specifications are met. Charlotte Johnston, TheCattleSite junior editor speaks to Managing Director, Richard Phelps about the Blade Farming rose veal system.
Blade Farming is quite unlike your standard UK farming enterprise. The business was set up in 2000, Mr Phelps wanted to offer producers a forward guaranteed price for cattle. Now the company purchases 20,000 cattle a year, which are contract reared and finished for beef at specialist units.

Already using Holstein/ Fresian bulls for beef production through a Blade Farming system, the company wanted to find a way to increase demand for dairy bull calves and ultimately add value to them, says Mr Phelps.

Initiating talks with Linden Foods (an Irish meat processor) three years ago, Blade looked at the possibility of producing rose veal. Blade also got involved with Compassion In World Farming and the calf export forum. In 2008, 500 veal calves were reared.

Since then the veal business has been expanding 10 per cent year on year, as Linden increase demand the product, Blade continues to produce it to the high standards it sets itself.

Blade Farming was established to offer producers a guaranteed forward price based on consistency of quality, carcase size and high standards of animal welfare.

The company source around 7000 dairy bull calves a year, of which 1200 are reared for veal.

All calves are sourced from weekly livestock collection centres in England. Money received for calves depends on weight and health - calves must be a minimum of 50kg on arrival at the centres.

As a low cost commodity, calves are purchased for around £50-70.

At two weeks of age the calves are sent to a dedicated calf rearing unit, where they remain for 12 weeks on a strict rearing regime.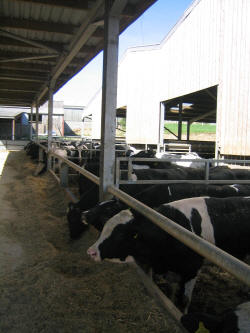 "We have worked with a number of feed nutritionists and veterinarians to ensure that the rearing regime maximises calf growth rates, whilst minimising the health challenges faced in calf rearing units," says Mr Phelps.

The regime appears to be working, mortality rates are low at less than 1.5 per cent which Mr Phelps says is not down to diseases but rather to other matters, such as a broken leg etc.

There is an intensive health programme in place which helps rearers prevent pneumonia, ringworm and other diseases, Blade has strong links with Pfizer Animal Health.

Blade units target growth rates of 0.8 to 1kg daily liveweight gains. After six weeks at the rearing unit, calves are introduced onto a calf nut/ pellet on top of the milk replacer already given. Over the 12 weeks calves will receive 23kg of milk powder.

Calves must be reared to a minimum of 100kgs before they move onto a finished farm.

At the finishing unit, calves are fed 1.5 tonnes of feed over a six month period. They are fed a hi-energy blend with a high starch content. This diet should encourage the calves to grow to their full potential, whilst providing maximum meat coverage.

Calves are slaughtered at 9-10 months of age at a liveweight of 410kg. With a 50 per cent yield, carcases weighing 205kg are sent over to Linden Foods in Ireland, where some are packed and sent abroad, and some are prepared and sent to UK retailers.

"The system works because producers know what their targets are with regard to welfare and yields and they know what price they will get for the product at the end of the day. This provides them with the certainty that they need to invest in their business, which eventually will allow them to expand," says Mr Phelps.

And this is certainly reflected in practice, with a number of finishers and rearers having erected state of the art purpose built sheds.

Blade are only involved in the production of veal calves. Carcase balance issues, marketing of the products and consumer perceptions are all left to Linden Foods. Information on Linden Foods can be found in TheCattleSite article - Veal Production In The UK. TheCattleSite spoke to three veal producers in the UK, the other articles can be found here: Bocaddon Farm Veal, Kimber's Farm Veal.