UK Can Expect Cattle Number To Remain Tight
The last year saw a slight decline in slaughtering numbers for prime cattle - steers, heifers and young bulls - writes TheCattleSite senior editor, Chris Harris.
While the numbers of heifers and young bulls being slaughtered rose, the number of steers sent to slaughter fell by nearly three per cent.

The change in the mix in the slaughterings could mean a change in the breeding herd, Mark Topliff, a senior analyst with the Agriculture and Horticulture Development Board told the recent Outlook 2010 conference in London.

Slaughterings at the start of the year were up in 2010 compared to the end of 2009 and the figures for March and April are also expected to be up.

Not only have the numbers of cattle being slaughtered risen, but so have the carcase weights with a rise of between 5kg and 6kg and Mr Topliff said that further increases in carcase weights can be expected this year as well.

The number of cows being slaughtered for the food chain has also risen and the figure for February of more than 40,000 head is up on last year and matching the figure for 2008.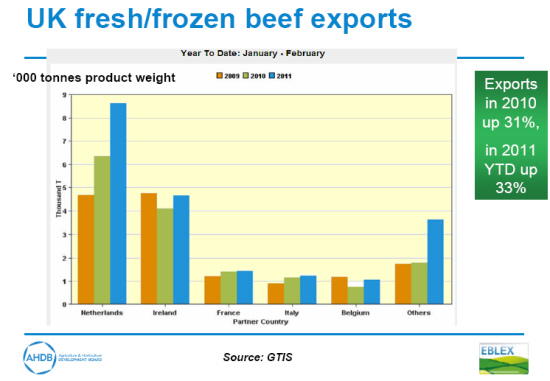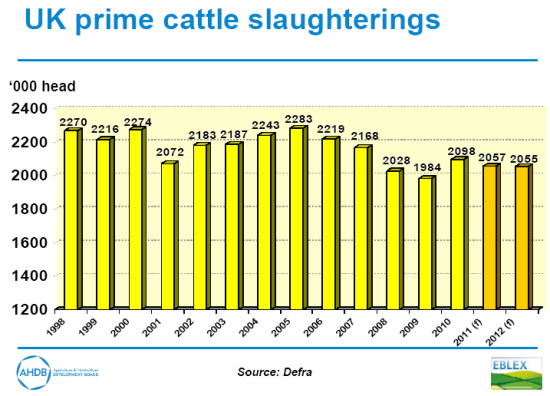 Prices had a flat year in 2009 after the rises in 2008 and they are continuing to be flat at the start of 2010 although Mr Topliff said they could see a slight fall. Store steer prices have continued to be high with the shortage of cattle forcing prices up.

Cull cow prices are back on last year bur are following a similar trend and are above the end year prices.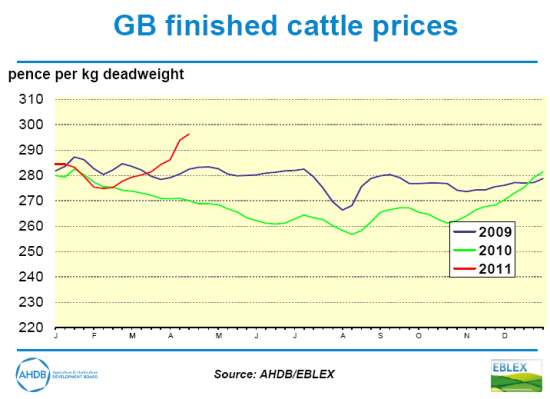 The Euro exchange rate is having a significant effect on trade with UK exports up by 1.8 per cent last year. The main rises have been seen to continental Europe with Italy, the Netherlands and France seeing their imports of UK beef up while Ireland has seen a fall of 21 per cent.

However, this year the January figures have seen a seven per cent fall on the 2009 figures.

Total fresh and frozen beef imports were down by seven per cent on 2009, with imports from Brazil, with a 52 per cent drop, and Germany with a 42 per cent drop, seeing the most significant moves.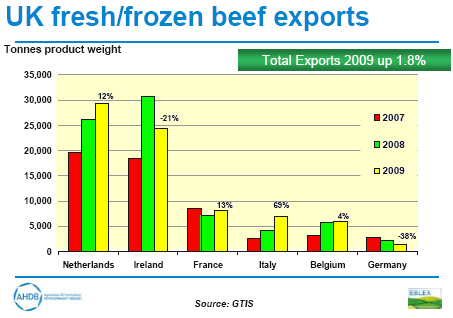 The import figures for January show a rise in weight of 1.8 per cent.

In the UK, retail beef sales rose but now seem to be falling back. Of all retail sales, minced beef took 49 per cent despite a drop in volume of 0.5 per cent.

A survey by CTS at the end of last year sees a drop in dairy cows of 2.1 per cent to 1.864 million, while the suckler cow herd shows a small rise of 0.1 per cent to 1.622 million.

Figures from the cattle movement services show that there is a continual decline in calf numbers with a fall of 2.6 per cent in 2007, 2.1 per cent in 2008 and 2.5 per cent last year.

Slaughterings of prime cattle have fallen by 11 per cent between 1998 and 2009 when they dropped to 2.024 million. They are now expected to rise to 2.045 million next year and fall back again slightly to 2.030 million in 2011. Cow slaughterings are expected to fall this year from the 499,000 last year to 490,000 this year and 480,000 in 2011.

Total beef and veal supplies will rise by about 10,000 tonnes this year to 1.159 million and remain stable in 2011.

Mr Topliff told the conference: "The total breeding cattle herd still declining but suckler cows numbers are stabilising.

"Prime cattle numbers will remain tight and exports are likely to remain firm but will depend on supplies and the exchange rate."

He added that there is not expected to be any significant change in supplies from South America and cattle supplies and UK economic recovery will be factors in determining consumption.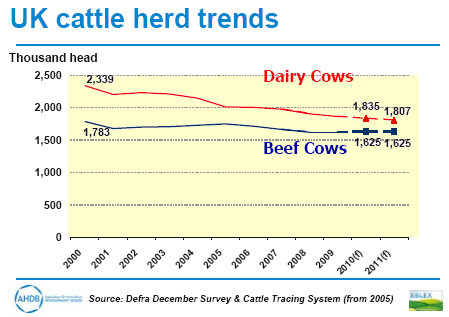 April 2010