Bocaddon Farm Veal
John and Vicky Brown rear over 100 veal calves a year at Bocaddon Farm, Cornwall. Selling to restaurants, farmers markets and through mail order, calves are sourced from the family dairy farm and other local dairies. Charlotte Johnston, TheCattleSite junior editor speaks to the couple about the challenges and opportunities that await them.
With their first child on the way, three and a half years ago John and Vicky Brown felt it was time to start their own business.

With Mrs Brown having grown up on a dairy farm in South East Cornwall, the couple decided to return back there, where Mrs Brown's brother was runs 120 milking cows. Originally looking into the possibility of setting up a farm shop, the idea was pushed aside due to planning difficulties.

It was by chance that Mr Brown stumbled across an article on veal.. Around the same time, Mrs Brown's brother was shooting bull calves at birth due to there low value and the lack of export markets.

The idea seemed perfect. Starting with five calves, they have experimented on everything from feed, slaughtering weight to hanging time and cuts of meat, in order to create what they believe to be the best end product.

"There was nothing to tell us how to produce veal," says Mrs Brown, "it was very much trial and error."

When the first calf was ready to be killed, the couple wrote to local restaurants asking them if they would be interested in buying the product. "Initial reception was very positive," says Mrs Brown.

The family now rears over 100 calves a year, killing about three a week, but this can climb to four or five a week in the summer.

The couple take all the bull calves that are produced from Bocaddon's dairy herd, although as her brother block calves throughout Spring and Autumn, calves are also sourced from surrounding dairy farms, to fill in the gaps in production.

All calves reared are Holstein/ Friesians with a few Guernseys. "There doesn't seem to be a difference in flavour between breeds," Mrs Brown comments.

At seven days of age, calves are moved from the dairy farm up to the rearing sheds. For two weeks they receive cololstrum and up until three months of age they are kept on a diet of milk powder and forage. Following this the calves move onto a diet of whey, milk powder, maize silage and a mixed dry feed consisting of barley and sugarbeet pulp.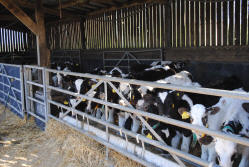 Calf housing
The whey is a by-product of cheese which is made on farm by Mrs Brown's brother and sister-in-law.

The decision to keep calves on a constant diet of milk was made by the couple on the grounds that in a natural environment, calves would still be suckling - they also believe it enhances the flavour of the meat. A constant milk product is costly, says Mrs Brown, however removing this cost would sacrifice the quality of the finished product," she says.

"We are trying to produce the very best veal, we tried to rear some animals on a non-milk based diet, however found that the flavour and tenderness of the meat was compromised," says Mrs Brown.

Milk is fed through automated milk feeders. Mrs Brown says that particular attention has to be paid to the milk powder, especially as the calves get older - because much of milk powder produced in the UK is for younger calves.

Calves are housed in groups in open, well lit straw yards - far from the darkened sheds and crates often associated with veal. The main health problems with the animals are the same as in any other calf rearing unit - with the common problem being pneumonia.

Calves are killed at six months of age.

Carcases return to the farm at a weight of 120 kg and are then kept in a cold store and left to hang for ten days.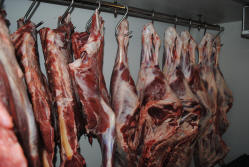 Carcases are returned to the farm and stored in a cold store
Initially it was difficult for the family to find a butcher to make the specific cuts of meat required for veal (cuts are very different to the average beef available). When starting up the couple went through four butchers in quick succession. Because of this Mr Brown decided to train up as a butcher and is now responsible for this side of the business, although he does have another butcher come in one day a week to help out. All meat is prepared and packed on farm.

Mr and Mrs Brown now allow their brother to rear the animals, allowing them to focus on the marketing. The rearing costs are about £450 per calf, before slaughter, butchery and other overhead costs involved in bringing the meat to market.

Over the past few years Bocaddon Veal has won a number of awards. Last year the company were finalists in the Country Living and Waitrose Made In Britain Awards. Bocaddon escalopes have been awarded 2-star Gold in the Grea Taste Awards as well as silver in the Taste of the West Awards. Their calves liver was also awarded gold and overall best fresh meat product for Taste of the West.

The meat is available at a number of restaurants in the South West as well as London.

"Restaurants demand the fillets, loin and escalopes, which means that we are left with a lot of forequarter cuts and trim," says Mrs Brown. This carcase balance issue is a major problem for the Browns. They are currently exploring the possibility of supplying the trim to a restaurant in London, who would use it to make burgers.

This low demand for the forequarter is starting to hold the market back. "We could sell more veal, but we would be left with a lot of the forequarter," says Mrs Brown. "It is not that this meat is less flavoursome than the hindquarter - it is just that the cuts are less popular.

Bocaddon Veal is also sold at Exeter, Lostwithiel, Truro and Kingsbridge farmers markets. Mrs Brown says that sales here are constantly growing and that they have a number of regular clients, as it is particularly popular with those who originate from Europe.

Veal can also be bought through mail order. A box scheme is available - this not only provides customers with a variety of different cuts to try but also helps balance the carcase.

Initially the couple received abuse from people who believed that veal production was cruel, but as more people become aware of welfare friendly veal, the demand is growing, says Vicky. She says that publicity from TV chefs helps a lot.

Bocaddon Farm Veal will be holding a number of cooking events throughout the year. Mrs Brown says this an ideal way to encourage people to try veal and show them how to cook the delicate meat.

Whats next for Bocaddon Farm Veal? With their third child born earlier this month, both Mr and Mrs Brown have taken a step back from the marketing this year. The company has grown year on year since it was established, and the couple hope it will continue to do so. Undoubtedly a successful business, their biggest challenge at the moment is balancing the carcase through increasing the demand for the forequarter.
Further Reading
| | | |
| --- | --- | --- |
| | - | Go to our previous feature on Veal Production In The UK, by clicking here. |