Financial Crisis Still Hurting US Beef Trade
Long term cattle supplies in the US are going to fall by another one to 1.5 per cent over this year, writes TheCattleSite senior editor, Chris Harris.
In their presentation to this year's National Cattlemen's Beef Association annual convention in San Antonio, the market analysts CattleFax said that fed cattle slaughter totals are expected to be down by two per cent.

And cow slaughter totals are forecast to fall by nine per cent.

However, CattleFax says that because slaughter weights are expected to rise, actual production of beef is expected to only fall by 2.9 per cent.

At the same time CattleFax predicts that exports will rise and on the back of a lower beef production, domestic supplies will fall by about four per cent per head of population.

Randy Block told the cattlemen's convention that total red meat production is also expected to fall by about two per cent, with poultry production down by four per cent and pork production down by one per cent.

"The main change has been the drop in pork production," he said.

He added that the beef market demand size was difficult to assess because of the recession, with consumers wanting to save money and at the same time the dollar has been weak.

"There is not going to be a rebound in consumer spending trends in the next 12 months," he said.

He said that the unemployment rate is up and will remain at between eight and 10 per cent over the coming year and with fewer people going through the food service industry, demand for beef will be down.

"The total foodservice industry has experienced its steepest decline in 28 years," he said.

He said that traditionally most of the value in the beef industry goes through the foodservice sector, but over the last year 7.2 per cent more went through the retail sector.

This was a total of 11,419,051,839 lbs.

"Wholesale beef demand has been eroded since the crash," he said.

He said that the drop in demand started to flatten out last year from July onwards and this trend is expected to continue throughout 2010.

Through 2010, beef imports into the US are expected to rise, as the domestic cow slaughter falls. This increase in imports will be necessary to feed the large manufacturing market largely for burgers.

According to Brett Stuart, much of this beef will be coming from Australia, where the strength of the Australian dollar has had a major impact on its trade with the US and will continue to have an affect.

"2010 could be the third year of decline in global beef production as the beef cow herd falls again," he said.

Over the coming year, CattleFax sees a growing export market to South Korea and also to Japan to some degree. Exports could rise by up to eight per cent compared to 2009.

US exports to Mexico have declined over the last year, but CattleFax expects this to turn around as Mexican demand for beef improves. Mr Stuart sees a fived per cent rise in exports to Mexico.

CattleFax adds that with both pork and poultry banned from the Russian and Chinese markets, expert access for competing meats is going to be critical for the beef and cattle markets over the coming year.

The live trade fell to 1.92 million head in 2009, a drop of eight per cent, because of the fall off in the Canadian market. The forecast of for Canadian feeder cattle fall slightly and Mexican feeder imports rise slightly.

Canadian fed cattle imports are expected to fall by three per cent or 20,000 head over the coming year.
US Beef Trade and Forecasts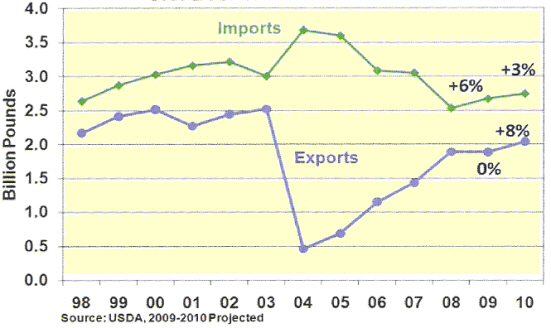 CattleFax expects the beef cow herd to be down by 300,000 to 31.4 million head.

Over the last year beef cow slaughter figures fell by 260,000 and over the coming year they are expected to fall again by a further 280,000.

With the dairy cow herd down by 300,000 to 9 million head, lower milk prices and higher input costs are going to drive more farms into liquidation in the coming year. Last year the dairy herd retirement programme saw 250,000 head removed from the herd.

However over the coming year the dairy cow herd is expected to stabilise and slaughter figures will fall be 260,000.

Smaller feeder and calf supplies should lead to fewer fed cattle marketings in 2010.

The fall in cattle slaughterings is expected to see beef production fall by 700,000 lbs this year.

CattleFax says that demand for this year will remain challenging for the beef industry because of the continued slow economy and a shift in consumer buying habits, away from higher priced cuts to lower priced and from restaurants to retail.

The second half of the year could see some improvements, but soft demand during the year will be offset by a lower production.

Retail prices are expected to se little change over the coming year.
February 2010