Little Change Expected In South American Beef Exports
This year is expected to see some recovery in Brazilian beef production, although much of this is likely to be offset by a sharp fall in Argentina, writes Peter Duggan from the Strategic Information Services at Bord Bia.
To a lesser extent, Uruguay with the combine production of these major exporters set to be marginally lower at 12.25 million tonnes.

In terms of exports from the three countries, a drop of around three per cent is anticipated to 2.8 million tonnes, reflecting a sharp fall in Argentinian shipments.

In 2010, Brazilian beef output is expected to increase by four per cent to 8.8 million tonnes cwe as confidence within the industry improves, with increased carcase weights towards the end of 2009 reflecting this pattern.

Export volumes are forecast to increase by around nine per cent to 2 million tonnes cwe in the coming year. However, this would still leave shipments running a fifth lower than the levels recorded in 2007.

Shipments to the EU are not expected to change as the number of Brazilian farms approved to supply the EU is increasing slowly and currently stands at around 1,800 farms.

Beef production in Argentina is set to fall by 11 per cent to 2.95 million tonnes cwe, following a year of liquidation in the herd due to a combination of lower confidence amongst producers and drought conditions.

Against a backdrop of declining self sufficiency rates in Argentina, it is forecast that exportable supplies in 2010 will be more than 40 per cent lower at 360,000 tonnes cwe.

Uruguayan production is anticipated to fall marginally in 2010 as more emphasis is being placed towards crop production, especially as cow supplies rose by 19 per cnet in 2009. Therefore, exports are expected to fall in line with domestic supplies for 2010.

Looking further ahead to 2011 and 2012, prime cattle supplies in both Argentina and Uruguay are expected to fall further, due to significantly lower calf births in 2009.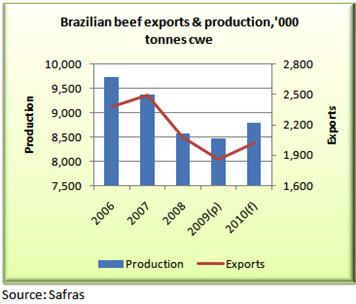 January 2010