Fish Oil in Diet Reduces Methane
At a time when agriculture is coming under more and more criticism regarding greenhouse gas emissions, researchers at University College Dublin, have discovered that the inclusion of two per cent fish oil in the diet (20 g/kg DMI) of steers will reduce methane output by approximately 25 per cent, and reduce feed intake by 10 per cent, writes TheCattleSite junior editor, Charlote Johnston.
Irish livestock account for 0.55 million tonnes of methane (CH4) annually from entire fermentation and manure management, but recent studies have shown the potential to reduce ruminal methanogenesis through strategic dietary supplementation with polyunsaturated fatty acids (PUFAs).

Knowing that fish are naturally high in n-3 PUFA, the researchers used nine mature limousin crossbred steers in the trial. The findings were presented earlier this year at the British Society of Animal Science annual conference, by Kirstie Petrie, who led the research team in Dublin.

The animals were housed in slatted floor pens and fed individually. Feed was offered in two equal portions at 8am and 4pm daily. Steers were fed a 50:50 forage: concentration diet, with barley straw as the forage source. Intakes were restricted to 95 per cent of voluntary intake.

Three concentrates were manufactured to supply fish oil at zero, one per cent and two per cent dry matter intake (DMI) and all diets were formulated to be iso-nitrogenous (14 per cent CP DM). The fish oil contained 43 per cent EPA and 19 per cent DHA. Dry matter intake was measured daily.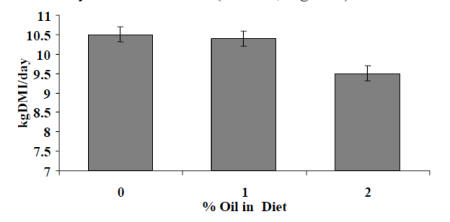 Figure 1 Effect of diet on feed intake (kg DMI/day)
Following a 21-day dietary adaptation period, daily CH4 emissions were measured on all steers on days 23 to 27 of each of three 28-day experimental periods, using the sulphur hexafluoride (SF6) tracer technique.

The CH4 and SF6 samples collected from the steers were analysed by gas chromatography and adjusted for ambient concentrations.
Figure 2 Effect of diet on CH4 emissions
"And we found that dietary supplementation with two per cent fish oil resulted in a decrease of both daily and intake corrected CH4 production," said Miss Petrie. "But this was associated with a linear decrease in intake – 9.5 per cent – in the animals fed at the two per cent level. The greatest incremental decrease in both absolute and feed intake corrected CH4 emissions was recorded between one and two per cent dietary fish oil inclusion," she added.
November 2009