US Beef and Dairy Outlook Report - March 2009
Poor weather and export demand are set to hamper the US cattle industries over the course of the next few months, says the USDA's Economic Research Service in its March 2009: Livestock, Dairy and Poultry Outlook Report.

Cattle Trade: After good pasture conditions for much of the fall in 2008, dry weather in Mexico is causing cattle imports from Mexico to increase in the beginning of 2009. Beef exports are expected to decline slightly as demand for U.S. beef is not expected to be as strong later in the year. Beef imports are expected to increase 6 per cent, but imported beef will have to compete with beef from cow slaughter, which is expected to increase again in 2009.

Cattle: Dry conditions in the Southern Plains and the Western United States and low milk prices keep commercial cow slaughter at high rates. Fed cattle prices struggle despite increasingly tighter supplies.

Dairy: Weak export demand and lower prices are expected to push milk output lower in 2009. However, lower dairy product prices have prompted stronger-than-projected domestic use, and tighter supplies have firmed price forecasts compared with earlier USDA forecasts.
Cattle Trade
Mexican Cattle Imports Pick Up in the Beginning of 2009
In 2009, 2.1 million head of cattle are expected to enter the United States, an 8- percent decrease from 2008. Weekly imports of live cattle from Mexico have increased over the past few weeks, contrasting with low imports for the second half of 2008. Following adequate rainfall and good pasture conditions in the fall of 2008, Northern Mexico has seen drier conditions over the past few months. It is possible that many of the Mexican cattle entering the United States recently would have been taken off Mexican pasture a few months earlier, when dry conditions normally begin earlier in the fall. According to AMS data, imports from Mexico through February are up 17 percent year-to-date compared with 2008. It is not yet clear if these increases will continue or if they reflect last fall's good pasture conditions.

Weekly AMS figures show fewer cattle being imported into the United States from Canada. After large numbers of feeder cattle came south through the first three quarters of 2008, feeder cattle have continued to decline from their year-earlier levels to more closely resemble the quantities seen in 2006 and 2007. Both Canada and the United States have seen lower prices for feeder cattle. Adjusting for the exchange rate, the spread between feeder cattle prices in the United States and Canada has generally been lower than last year, signaling that feeding cattle in Canada is becoming relatively more competitive. According to Canfax, feedlot inventories in Canada's major feeding regions have been higher year-over-year since November.

Imports of Canadian slaughter steers and heifers have also fallen compared with levels seen last year and 2 years ago. This appears to be a continuation of the trend that began in the fourth quarter of 2008. Canadian feedlots had lower placements from the end of 2007 into the first half of 2008, leading to lower marketings for much of 2008. A smaller pool of finished cattle—combined with a depreciating Canadian dollar, making Canadian-produced beef less expensive on the world market—has led to fewer fed steers and heifers being exported from Canada to the United States.
Increased Exports to Korea Offset Decreased Global Demand for Grain-Fed Beef
The United States is expected to export 1.880 billion pounds of beef in 2009, a slight decline from last year's 1.888 billion pounds. According to FAS Export Sales Report data through February 26th, total exports have been slightly above 2008 levels. While the totals have remained stable, the allocation of exports has shifted. Exports to Mexico appear to be down, while exports to Vietnam appear to be up from last year. The largest importer of U.S. beef, Mexico, has been below 2008, as the Mexican peso continues to depreciate against the U.S. dollar. U.S. exports have also benefited from the resumption of trade with South Korea. While export levels do not appear to be as high as they were when trade first resumed in the third quarter of 2008, the resumption of sales to South Korea has kept total exports about the same as last year. It will be difficult for exports to keep up with 2008 totals for the entire year, however.

After such a strong third quarter in 2008, a stronger dollar and weakened global demand should keep exports from reaching the same quantities, resulting in a slight decline in 2009 total exports.

The United States is expected to import 2.68 billion pounds of beef this year, a 6- percent increase from 2008. Imports from Australia and Uruguay are expected to increase as the Russian beef market declines. Cow slaughter in the United States is expected to remain high in 2009. High cow slaughter generally translates into high supplies of processing beef. Since most imported grass-fed beef is also used for processing, foreign producers, with decreased export opportunities, will either have to compete with U.S. producers or absorb the production within their own domestic market.
Cattle
High Dairy Cow Slaughter and Record Dressed Weights Boost Beef Production
Based on USDA's Agricultural Marketing Service weekly Actual Slaughter Under Federal Inspection reports through February 2009, cow slaughter continues at a high rate compared with the same period in 2008 and represents a slightly larger share of the January 1 cow inventory than last year's slaughter. The high slaughter rates are due primarily to increased dairy cow slaughter, a result of low milk prices as well as an extended multiyear period of below-normal precipitation in California and the Southern Plains since late fall 2008. Projected cumulative 2009 dairy cow slaughter through February was 16 percent higher than for the same period in 2008. Projected cumulative 2009 beef cow slaughter through February, while about even with year-earlier levels, is still about 5 percent above same-period 2007 levels, which were based on a 2 percent larger January 1 cow inventory.

According to USDA's National Agricultural Statistics Service (NASS) February Cattle on Feed report, January 2009 placements of cattle on feed in feedlots of 1,000-plus head were up 4 percent over January 2008. Estimated average placement weights for the 5-month period August through December 2008 were higher than for the same period in any of the previous 4 years. The difference in monthly average placement weights in 2008/09 compared with year-earlier weights also appears to be declining since September, probably as a result of declining feed prices since mid-2008.

For January and February 2009, monthly average federally inspected dressed weights for steers and heifers set records, despite declining placement weights and counter to more typical seasonal declines into April-May, the latter effect partly a result of favorable weather conditions for cattle feeding during the late fall and winter. These record-heavy dressed weights could offset lower steer and heifer slaughter and could combine with high dairy cow slaughter rates, resulting in commercial beef production for 2009 within 1 percent of 2008 quantities.

While both wholesale and retail prices are declining, wholesale prices are declining more rapidly. As a result, packers are again dealing with negative margins, and pressures are mounting to reduce kills even beyond recent levels and to offer lower prices for fed cattle. It will become more difficult for packers to obtain cattle at lower prices as supplies of market-ready fed cattle become more limited over the next several months. While farm-to-wholesale spreads narrowed, wholesale-toretail spreads widened into January 2009.
Dairy
Weak Demand and Low Prices Force Dairy Producers To Lower Production
Lower prices will lead to lower milk production in 2009. While output per cow will be fractionally higher this year, the total cow herd is expected to contract. For the year, the cow herd will average nearly 1.3 percent smaller than 2008. The contraction began in January, but the steepest declines are expected in the third and fourth quarters. The 2008 milk cow herd size was revised upward by NASS, resulting in an increase in projected 2009 cow numbers from last month. Output per cow will rise fractionally to 20,500 pounds per cow.

Total milk production will be lower in 2009 at 188.5 billion pounds, a decline from 190 billion pounds in 2008. Moderating feed prices will aid output per cow this year; however, producers will face poor returns throughout the period because of low product prices compared with 2008. At present, the forecast assumes no additional herd buyouts through CWT (Cooperatives Working Together). The problem remains of weak demand is pressuring prices, even in the face of lower input costs. The expected milk-feed price ratio for 2009 clearly signals contraction. The first half of 2009 will be marked by only small reductions in milk supplies despite weak demand, whereas in the second half of the year supply is expected to tighten more dramatically.

Lower prices have stimulated additional use, and commercial use is forecast to rise by 1 percent on a fats basis and by better than 2 percent on a skims/solids basis in 2009. Total 2009 milk equivalent exports are forecast at 5.1 million pounds on a fats basis and 19 million pounds on a skims/solids basis, down from 8.8 million pounds and 26.6 million pounds, respectively, in 2008. Export declines are due to global recession reducing demand and to rising production in Australia and New Zealand bringing additional supply to the world market.

Production of total cheese, butter, and nonfat dry milk (NDM) in January was above that of a year earlier. Only whey production lagged behind year-earlier levels. Demand for cheese and butter has been stronger than earlier forecasts and supports slightly higher prices and lower expected net removals. Net removals are forecast to reach 300 million pounds of milk equivalent on a fats basis and 4.8 billion pounds on a skims/solids basis for the year. The cheese price is forecast at $1.215 to $1.275 per pound.

The price for butter is forecast to average $1.105 to $1.195 per pound. NDM and whey prices are forecast at 80.5 to 85.5 cents per pound and 16.0 to 19.0 cents per pound, respectively. As a result of higher cheese and butter prices than forecast earlier, the prices for Class III and Class IV milk have been raised slightly to $10.05 to $10.65 per pound and $9.50 to $10.20 per pound for 2009. The all milk price is expected to average $11.25 to $11.85 per pound in 2009.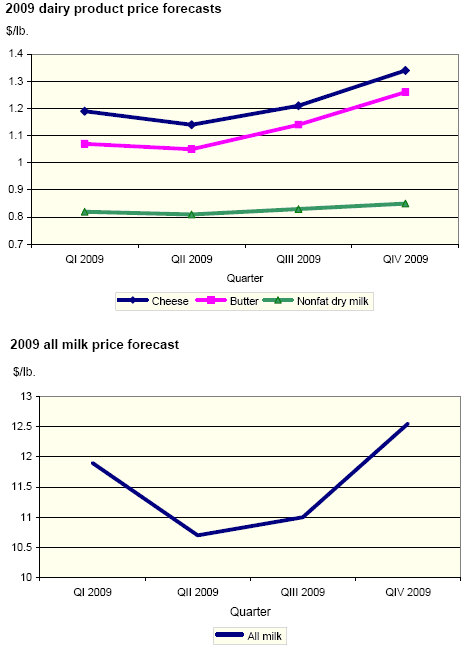 Further Reading
March 2009