Beef & The 3 C's - No Rest For The Weary
By Nevil Speer, PhD, MBA, Western Kentucky University and published in the Ohio State University Beef Team Newsletter. January's Monthly Market Profile was subtitled "2008 - Corn, Consumers and Capacity."
During the past several months the beef complex has been inundated with the converging influence of those three factors. Where are we with respect to the 3 C's?

First, let's look at consumers. Clearly, the American public is very concerned about the general economy. There's increasing evidence that the U.S. has indeed entered a period of recession. Most notably, the Labor Department's April employment report indicated a loss of 80,000 jobs in March - the weakest report in 5 years and marks the 3rd consecutive month of decline. Meanwhile, perception is reality: the March Reuters / Univ. of Michigan Consumer Sentiment survey reported that "…consumers were nearly unanimous in the opinion that the economy has already slipped into recession. Consumers have adopted much more cautious spending plans…" And April's preliminary index was 63.2 - the lowest reading since 1982. Trepidation about the economy is influencing the beef industry.

The Choice cutout fell below $140 in late-March - the first time since last November and well below year-ago levels (see graph below). More important, though, is the trend: the slump has occurred when cutout values are expected to seasonally improve. Perhaps more concerning is the decline in the Choice-Select spread now hovering around $1. Those levels haven't been seen since April, 1998 (against a low-$60's fed market) - a period which marked an all-time low in beef demand. That weakness has forced a significant contra-seasonal slump in the fed market: fed prices have slipped $7/cwt from a near-term high of $93 in late-February to $86 in late-March (the equivalent of $85/head in just 5 weeks). The net result is cattle feeders are leaving most, if not all, of their margin money on the table as closeouts post losses of $150-200/head.

Second, there are important developments on the corn front. USDA's Planting Intentions report (March 31) indicated U.S. farmers initially plan to grow only 86.0 million acres in 2008 (versus 93.6 million in 2007); a level not sufficient to meet total use projections for the coming marketing year (see graph below). Additionally, USDA's WASDE report (April 9) resulted in another downward adjustment to carryover. That scenario spells a dramatic decline in net carryover and stocks-to-use ratio for the coming marketing year (see table below). And the outcome means even higher prices. Meanwhile, increasing concern about saturated soil conditions through the heart of corn country has also begun to creep into the market.

Prospects for delayed plantings may potentially penalize yield and/or cause even more shift to soybean acres (especially considering capital investment required to plant corn). Corn prices have moved sharply higher in recent weeks - CBoT's December corn contract has now surpassed the $6 mark. There's plenty of risk as the market transitions into summer; look for a rocky ride as the market tries to figure out where all of this will end up!

Third and finally, the really big news of the month relates to capacity: JBS announced intentions to purchase National Beef Packing and Smithfield's beef division coupled with acquisition of the Five Rivers cattle feeding company. In January I noted that, "From a business rivalry perspective rationalization must occur." The deal is a major step towards that end and, if approved by the Department of Justice, would provide JBS capacity to harvest approximately 42,000 head daily thereby commanding nearly 1/3 of the industry's market share (see table below). The question remains, though, do the acquisitions really place JBS in an improved competitive position or has the company simply succumbed to the temptation of "volume obsession" (See www.destructivehabits.com)? How that strategy plays out remains to be seen. Regardless, it's an important, but not really surprising, development within the industry. Much of what's below stems from discussion in the Monthly Market Profile several years ago (January, 2003) dealing with business principles and consolidation.

Business strategists, Sheth and Sisodia (The Rule of Three, c. 2002), argue that industries adapt and experience change, in order to become more efficient, as a result of four primary drivers: 1) creation and implementation of industry-wide standards, 2) attempts to offset large fixed costs, 3) increased government intervention, and 4) industry consolidation. These four factors are inherently related causing on-going and amplified change within any industry. A shift in any of the first three drivers causes the fourth. Ultimately, industries respond with consolidation that leads to three companies which dominate the marketplace. For example: John Deere / CNH Global / AGCO; McDonald's / Wendy's / Burger King; American / United / Delta (based on passenger miles); Nike / Adidas / Reebok. Why three? Three main players within an industry create equilibrium between predatory competition and market collusion.

Similarly, authors Deans, Kroeger and Zeisel (Winning the Merger Endgame: A Playbook for Profiting from Industry Consolidation, c. 2003) detail the results of extensive research regarding industry consolidation trends in a variety of industries. Their thesis is that all industries experience the same pattern of consolidation; the only major difference is the length of time over which it occurs. Consolidation can be segregated into four distinct stages. These stages are defined by market share possessed by the three largest corporations within an industry. The early stages, I and II, are depicted by a highly fragmented industry with lots of players each of which possess limited market share. Stage III - the Focus Stage - is one in which "…competitors battle to be among the last ones standing". Stage IV, the final stage of consolidation ("Balance and Alliance Stage") is characterized by mature industries in which the three main players possess 70-90% of market share; e.g. tobacco, agricultural machinery, and oil.

The beef industry has witnessed a large degree of consolidation in several of its segments over the past decade. This has predominately occurred in the retail sector which is most appropriately defined by the "Stage III" description. Retail stores possess minimal margins (~2%). Therefore, the most efficient way to improve corporate competitiveness and profitability has been to increase turnover. Growth in sales has largely come via acquisition, mergers and creation of new marketing channels. The feedyard industry could also be characterized by "Stage III" of consolidation. During the past several years I've discussed the ongoing pressures within the sector that drive industry rivalry and consolidation.

Per the proposed JBS acquisition, the processing sector will be depicted by the "Stage IV" description. That event is contentious - it speaks to the heart of the single most tenuous issue within the beef industry. Consolidation trends among the packing/processing sector are likely the single most tenuous issue within the beef industry. The beef industry is pressured by ever-shrinking margins. In response, it has been forced to become increasingly efficient, productive and competitive. Business consultant Michael Hammer points out that "…too much productivity is a mixed blessing. Increasing productivity does enable a company to lower its costs while increasing its output and that ought to be good for any business. But what is good for any business, it turns out, isn't good for every business" (Fast Company, Nov, 2002).

In response, despite associated difficulties and resistance, increased transition is likely to continue in years to come. New business models will increasingly be transferred back through its respective segments: innovative efforts to maintain profitability will result in further coordination both between and within respective sectors. Transition within any industry, especially as it moves from an adversarial approach to a coordinated arrangement, is a difficult one. "Supply chain integration and the implementation of new technologies must be planned and handled with care because all of the participants in a supply chain are independent entities. Participants tend to resist changing their work practices, especially if the benefits are perceived to be greater for other participants" (National Research Council, 2000).

When it's all said and done, the beef industry is not unique: it is subject to universal business principles. With that in mind, resilience is fundamental to success amidst turbulent business conditions: being informed, remaining objective and embracing versatility are key components going forward to advance through adversity and change.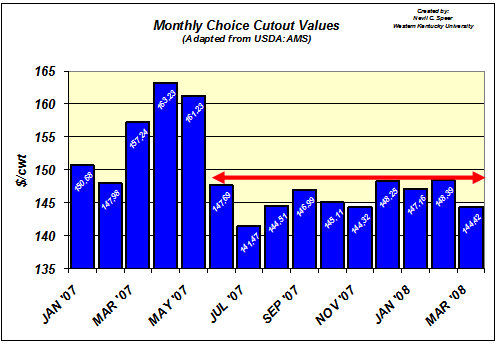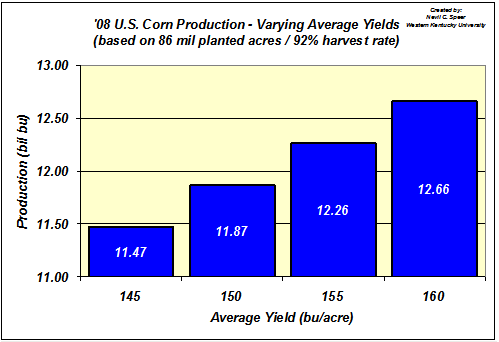 April 2008