Signs Good for US to Recapture Market Share
By Chris Harris, Senior Editor, TheCattleSite. Cattle supplies in the USA this year are expected to be nearly identical to 2007 according to market analysts CattleFax.
The analysts have shown that beef cow numbers remain settled following several years of market volatility, uncertainty and drought. It also says that drought could play a significant part in the future growth of the beef herd around the world.

Speaking at the recent National Cattlemen's Beef Association Convention in Reno, Nevada, Dr Art Douglas from Creighton University predicted that there could be continuing drought conditions in Australia and China as well as the US.

CattleFax shows that fed cattle slaughter totals are expected to be flat for 2008 and cow slaughter numbers are forecast to fall by three per cent. However, average carcase weights could rise slightly and this would produce a modest rise in production of just 0.5 per cent.

Net beef supplies in the US are projected to be 27.9 billion pounds.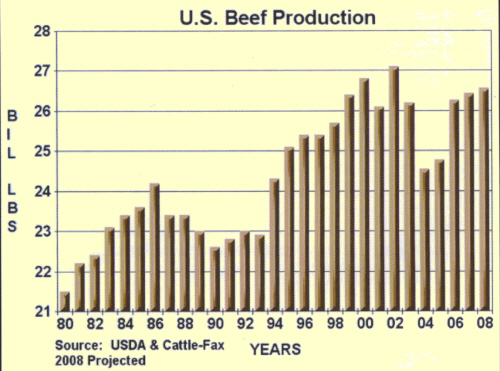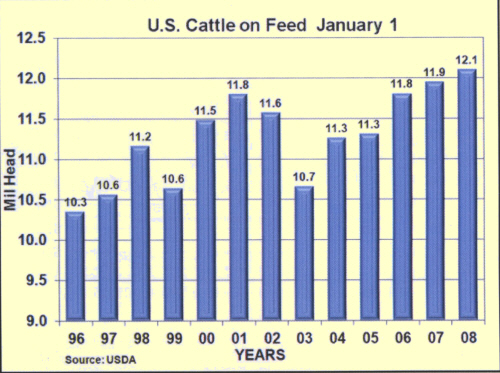 At the same time exports are expected to rise in the US and this will have the effect to reduce domestic beef supplies by about one per cent. The effect of the weaker US economy is also expected to have a knock-on effect on consumption and demand. While demand rose last year, this year, the economy together with high energy prices and the credit and mortgage problems encountered in the US, will impact on beef demand.

CattleFax predicts that the markets in both South Korea and Japan will open up again for US exports and while this will have an impact on domestic supplies, it will help to support the industry in troubled times at home.

Exports of beef are expected to rise by 1.9 billion pounds this year.

With supplies flat, CattleFax predicts that fed cattle prices will average between $92 and $94 for the year with the highest prices at the end of 2008. Feeder cattle and calf prices are expected to be below 2007 levels.

Cattle imports from Canada are expected to rise by 200,000 to reach 300,000 this year and feeder cattle imports from Mexico are also expected to rise slightly.

Beef imports to the US are expected to hit 3.26 billion pounds - a rise of between three and four per cent.

While the dairy trade is growing worldwide - up by 65 per cent - in the US the dairy herd is predicted to grow only slightly.

CattleFax said that a lot of the worldwide growth is to do with how the commodity prices are faring, with demand increasing prices globally. China and India are now coming more and more into the market, CattleFax said.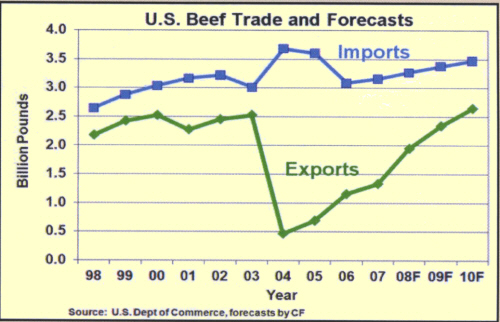 Grain Supplies
One of the major factors facing the cattle industry in the USA and worldwide is the rising price of corn and grains. Prices are predicted to rise. Last year corn prices in the US were $1.25 per bushel higher than in 2006.

CattleFax said that world corn stocks are at their tightest levels since the 1970s and world wheat stocks are at a record low.

The grain and oilseed markets are facing a battle for growing land and US corn stocks are expected to fall this year.

In total, acreage for planting could fall by 4 to 5 million acres in the US.

"Record high prices for corn, wheat and soybeans have created fierce competition for acreage," CattleFax said.

This year the US corn production is expected to be 12.6 billion bushels - a fall of 500 million bushels compared to 2007.

"A smaller number of acres going into corn will put more pressure on and with a huge growth in ethanol production, the pressure will increase further," CattleFax said.

However, CattleFax also warned that ethanol and renewable fuels are not the "silver bullet" and as this is an election year in the US it predicts that not much will change.

China and India's growth and emerging wealth will also have a knock-on effect on grain consumption and prices.

In the US the weak dollar and competitive grain prices have produced great demand on the export market even though exports are expected to fall as the ethanol production and domestic demand draw stocks onto the home market.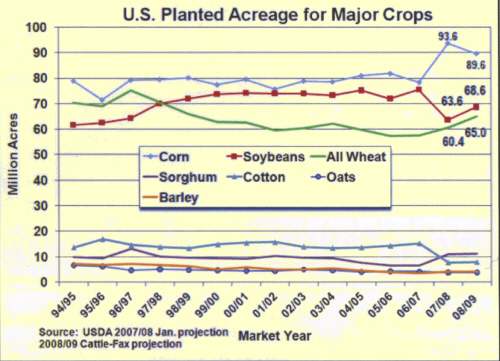 Global Markets
CattleFax said that the total global beef situation is expected to expend - particularly in China, India, Argentina and Brazil.

"This low quality beef is seeing enormous demand growth as per capita income swells in Latin American and Asian developing countries," CattleFax reports.

This is in marked contrast to the stalling in the growth of high quality grain-fed beef in both the US and the decline in the cowherd in Canada. "Brazil and China will continue to expand production, but the US, which is the largest producer is continuing to lose market share," said CattleFax.

According to CattleFax, the reopening of the Korean market will see and increase in prices, particularly for some less favoured cuts.

When the Korean market does open its doors again to US beef, this will put pressure on Japan to open its market and this in turn would create significant export premiums.

CattleFax said that in the long term, the globalisation of the industry will see a consolidation of the major packing and processing operations, which will make worldwide trade easier.

Despite the pressure that high demand for feed stuffs - corn, wheat and soy - around the world is placing on the industry, CattleFax predicts that if the US can recapture the Asian markets, lost because of concerns over BSE, the low value of the dollar will stimulate growth and the US will rapidly regain market share.
March 2008